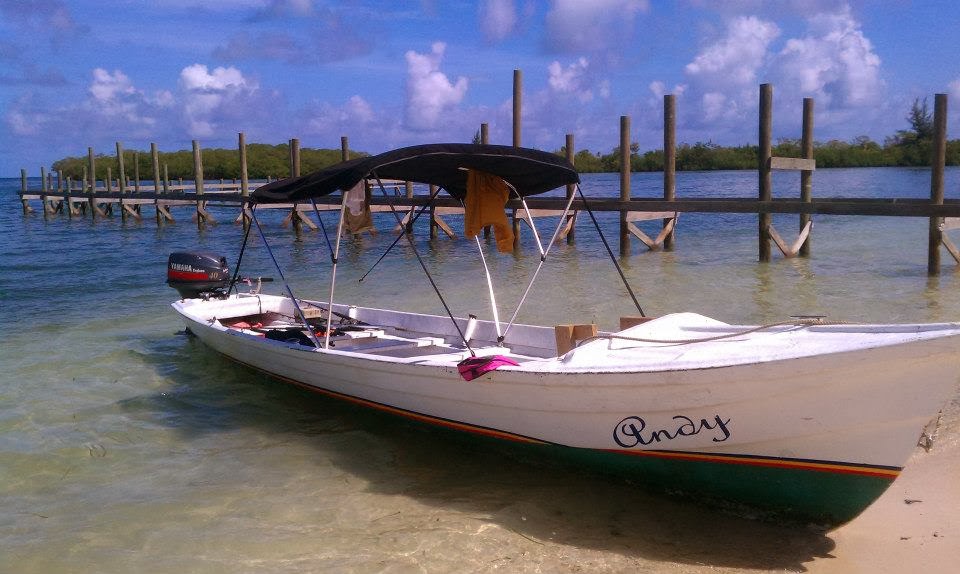 Captain Bill's boat
We recently cruised the Western Caribbean on the Norwegian Jewel, with stops in Cozumel, Costa Maya, Roatan, and Belize City! This post gives highlights from the cruise as well as things that we learned as first time cruise ship travelers, including tips for packing and land excursions.
First, the fun stuff! Getting off of the ship and into different countries was the best part about my cruise experience.  Each cruise offers shore excursions once you reach a port. At first, I thought these would be a huge rip-off. (I'm naturally suspicious of things that are too convenient.) But there are plenty of benefits:
If you're on an official Norwegian Cruise Lines excursion, they're responsible for you. The boat won't leave you if you're running late, which is reassuring in countries where people are on "island time."


At Frenchie's Restaurant

Many excursions include a bilingual tour guide, the activity, transportation to and from the port, lunch, and some sort of beverages. While the price is definitely a bit higher, it's still a good deal for travelers who don't want to worry about the details.
Excursions do not include tips for local professionals and they may not include all of the equipment needed for the activity, so be sure to ask the reservation specialist aboard the boat!
One excursion offered is a scuba and snorkeling trips in Roatan, Honduras.  The island is world renown for its scuba diving opportunities, boasting beautiful reefs, ship wrecks and stunning underwater cliffs. I'm not scuba certified yet so my husband and I decided to snorkel first. I LOVED it.
Confession: snorkeling makes me feel like a mermaid. I also prefer it to regular swimming because I don't obsess over oxygen deprivation, haha. Below is a sneak peak from our snorkeling adventure, filmed using GoPro.  This was actually taken during our honeymoon so the Norwegian snorkel sites will differ.
The sexiest dude is my husband, Alejandro. The other guys are Captain Bill and his assistant, whose name escapes me.
[youtube http://www.youtube.com/watch?v=bQanYVgu_FM]
It was my first time snorkeling. Even is such shallow waters, I was surprise by how quickly pressure built up in my head. I wasn't used to it so I didn't dive very deep. Next time, I'll be more brave! It took about 20 minutes for me to learn what to do with my hands so I doggy paddled, haha. I look goofy but I'll chalk it up to inexperience.
If you're planning on taking an excursion during your cruise, there are a few things that you should know.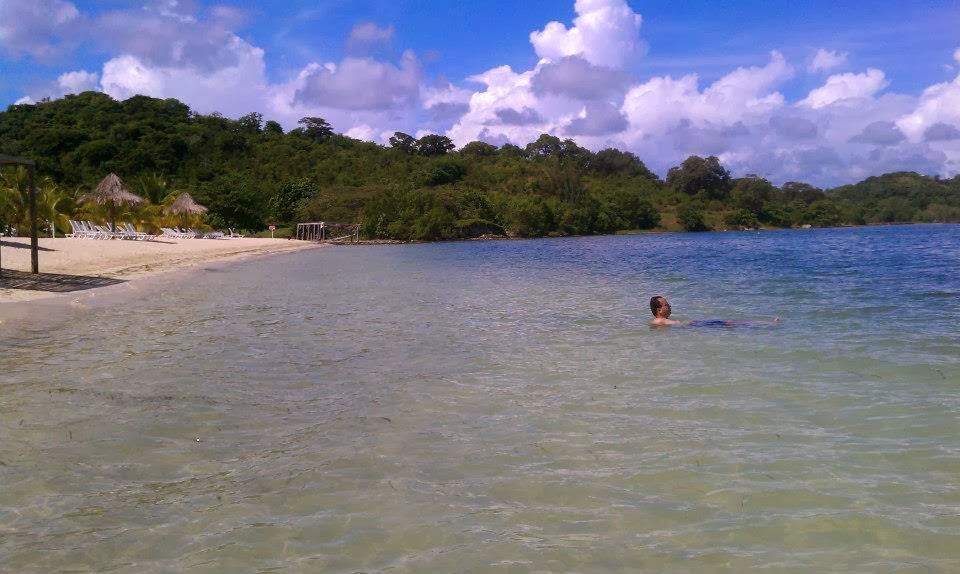 Alejandro, relaxing in the bay
Excursions
The details provided in the ship's brochures are generally inadequate. Go to the reservations desk and ask questions! 
Get all of the details of machines that you will operate, such as the number of passengers permitted, drive time available for each passenger, stick vs. automatic, appropriate attire and footwear, etc.
Get a breakdown of the excursion timeline. We have a seven hour excursion where nearly four hours were spent in transit!
Understand what is included in each packages as far as drinks, meals, and equipment.
You'll want cash for tips and souvenirs. Seeking out an ATM while in the US is ideal but the ship may also have an ATM available (check the casino). Just about anything is preferably to ATMs at the ports, which charge high fees and may give you funds in local currency only.
Most post excursions accept $USD.
Up next, an ATV Jungle Adventure, beach party, river safari and trek to the Lamanai Mayan ruins!