I loved St. Thomas and I think that you will, too.
At first, I wasn't sure that our day on the Caribbean island would be that fantastic. Though I'd had enough wine to sedate an elephant the night before, I found myself wide awake at 3am. I figured that with a lack of sleep, I'd be cranky and irritable. By the time that we got off of the Carnival Sunshine I was so stoked that I forgot my lack of sleep.
Even in winter, the weather in St. Thomas is absolutely stunning: sunny, high 70s with a gentle breeze that kept us cool even during our activities. The entire weekly forecast was like that. We were able to enjoy these Eden-like conditions on our open air tour bus, swerving precariously close to the edge of cliffs (which seemed even more dangerous since I'm not accustomed to driving the left side of the road). If you're going to die, you may as well have great weather and fantastic ocean views.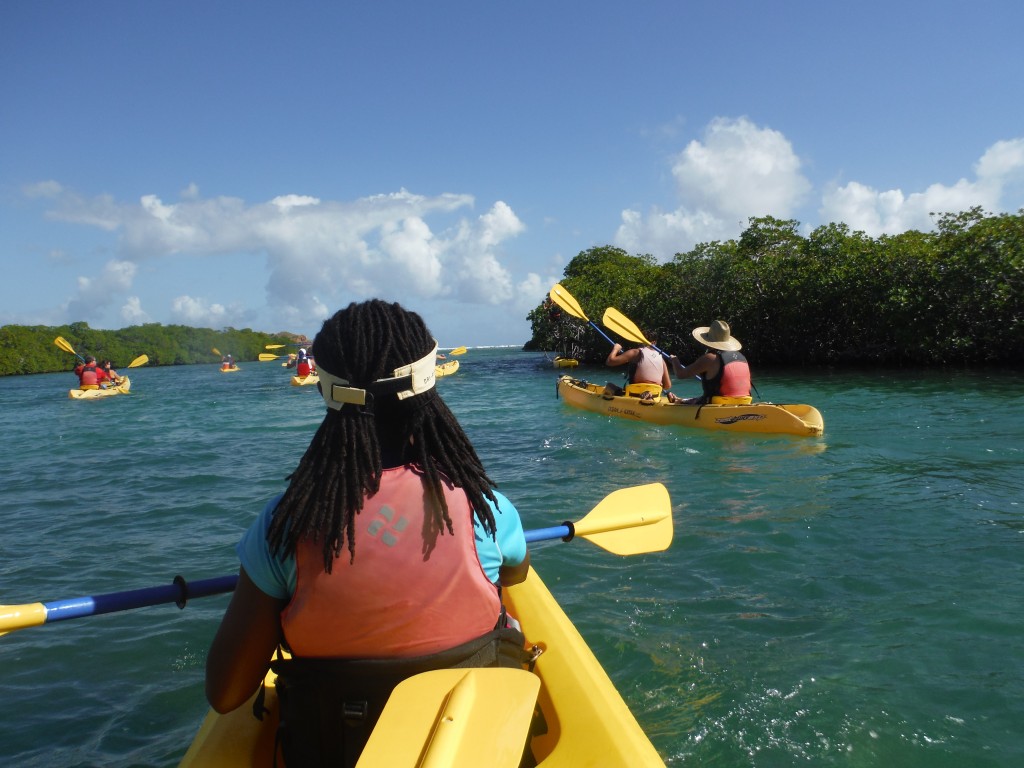 We had both. And we didn't die.
Instead, we were dropped off at an excursion shack with tours led by Virgin Island EcoTours. For the day, we were set to kayak, hike, and snorkel at St. Thomas' Inner Mangrove Lagoon Sanctuary and the Island of Cas Cay. The company provides vests, kayaks, snorkel gear (though I opted for my own), and a brief safety course before heading out on the excursion.
The views from our tandem kayak were spectacular: turquoise waters, gnarled mangroves, and rugged red cliffs that stopped the waves in their tracks. Crashing waves. Perfection. Everything seemed so picture perfect, like a Nat Geo calendar.
Once we came ashore, we took a brief walk and stopped in a clearing where thousands of hermit crabs speckled the ground. It seriously looked like the ground itself was moving. We were told to pick a grab as our representative for a race. Mine just about took a chunk out of my finger (OMG OUCH!) and then didn't want to come out of his shell when the race started. Little jerk. But my husband picked a winner!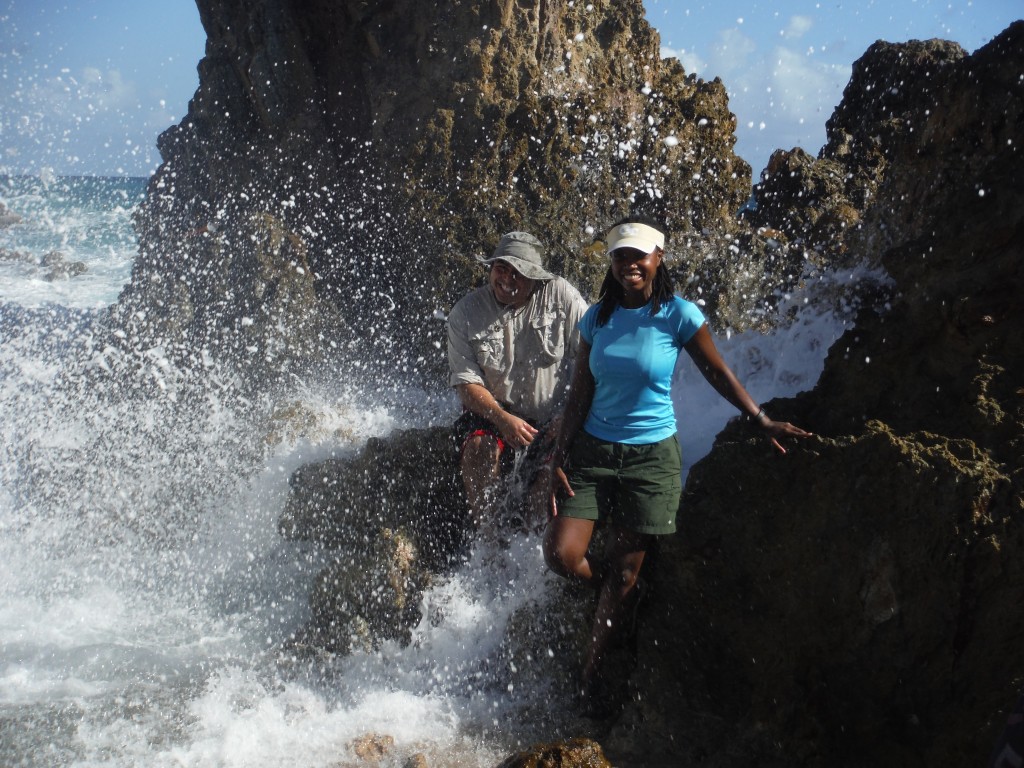 After another brief walk–this was the "hike," by the way–we stopped at an outcropping and took photos with waves crashing in the background. The Little Mermaid makes it look so easy. It's not. You get wet and look goofy before you get it right. The pic to the left is what you're in for if you want to be adventurous like my hubby and sit closer to the opening.
The trail was less than half a mile and it was incredibly easy to traverse, even in flip flops. We backtracked along the trail towards our kayaks, grabbed our gear and headed out to the corals for snorkeling.
Snorkeling in St. Thomas wasn't nearly as terrific as snorkeling in Roatan for many reasons. First, I couldn't use my flippers because the water was so shallow I'd just kick up sand and ruin the view. Secondly, the guides were afraid we'd recklessly crush the already fragile coral.
The second point really bothered me.  Much of the coral we passed seemed pale with minimal life around it. I learned that this could be coral bleaching which occurs when the coral is under stress from irregular temperatures. There were very few fish to see for most of our swim but that's not nearly as saddening as knowing that the corals are at risk. By the time that we got to the deeper waters that remained cooler (and were therefore less damaged, I assume) and housed more fish, we were asked to head back to the kayaks.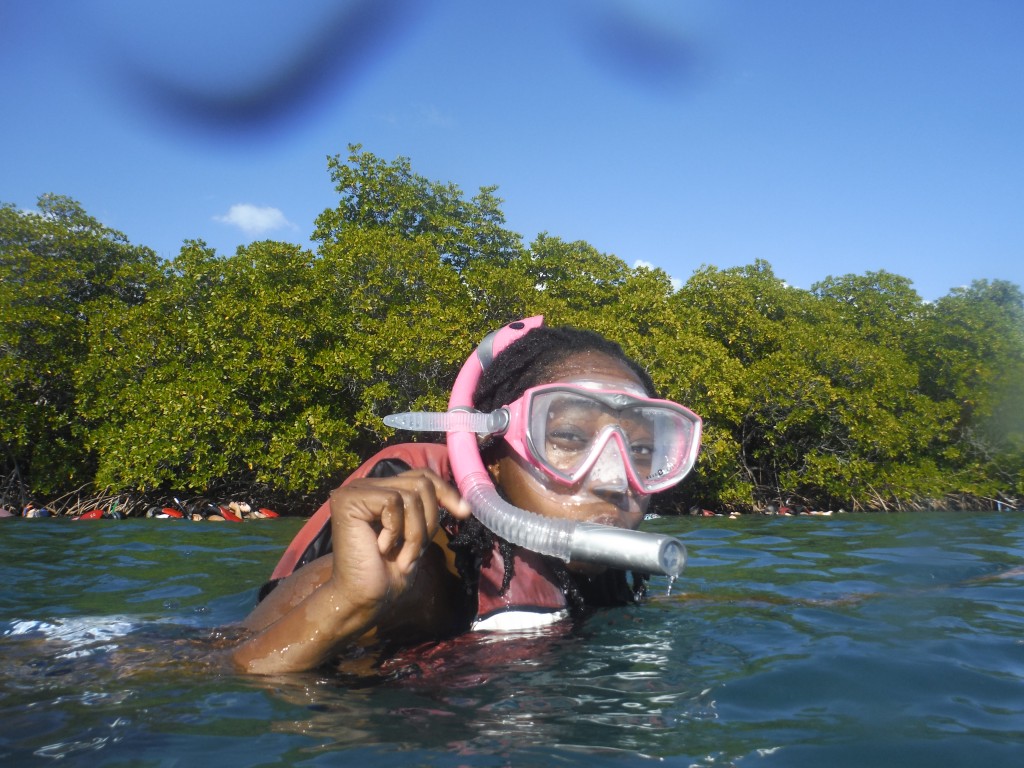 I wasn't ready to call it quits so I took the long route, skimming the area where the mangrove roots end and the sea begins. There, the water was teaming with wildlife. Freaky-looking eels, baby barracuda and schools of fish all hid and grew together among the mangroves. It was my absolute favorite part! I wasn't ready to leave when they began to call us back to shore.
The only downside to a St. Thomas vacation is the lack of historical and cultural resources. I really like to participate in local cultural activities and learn about the pre-colonial history of places when I can. That sort of information wasn't readily available or evident.
Outside, there is plenty to do, such as ziplining, horseback riding, and even some scuba action. Of course there is sailing, water sports, and fishing. If you enjoy moderate-level outdoor activities and plenty of natural beauty, you will truly enjoy St. Thomas. It isn't as developed as some other islands so there are fewer distractions from the natural beauty.