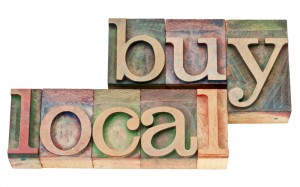 Why does #shoplocal matter? I recently got an email from Alok Appadurai of Fed by Threads. His message inspired this post and I wanted to share it with you all.
5 Reasons to Shop Local
When you spend locally, you support the creation of jobs where you live. 

Those small businesses are likely to spend that revenue on other local services for the business, which further supports jobs.

You help build community, and where there are strong communities, the economies are often strong.
You help create jobs that may exist for future generations.
You redirect wealth from the top 1% of Americans who historically hoard that money to pass along to their children rather than reinvest into our economy. Instead you help spread resources across American families, which helps those families have jobs and puts food on the table.
In places where people spend at local businesses, crime levels go down (as jobs go up), quality of schools is generally higher, and quality of life is generally higher.
The only thing that could make his message better? A few facts and figures to support it!
Co.EXIST cites a Civic Economics reports, "The study for Louisville found that independent stores recirculate 55.2% of revenues compared to 13.6% for big retailers, and that local restaurants recirculate 67%, while big chains do 30.4%." Imagine getting those results in the city, suburb, or town where you live! When you shop at a locally-owned store, your money is pumped right back into your community instead of being syphoned away to another city or country–where you can't reap the benefits.
The same study states that in the 10 communities examined, "local retailers produce 3.7 times more economic benefit than spending at chains." What are a few of those benefits? The article continues, "The extra dollars in the local economy produce more jobs for residents, extra tax revenues for local governments, more investment in commercial and residential districts, and enhanced support for local nonprofits. In short, these businesses create better places." When you shop at independent restaurants and retailers, your money stays in the community to improve infrastructure, services, and broaden economic opportunities for everyone.
These local businesses also give towns and cities their unique charm, which is excellent for attracting new residents and tourists–who have money to spend, may I add. Having a town with character supports a stronger local economy and welcomes diversity.
Certain types of shops may also reduce crime and improve community relationships. A paper published by the London School of Economics and Political Science suggests that local coffee shops and civic centers provide a safe and interactive gathering place for residents. When people can unite and build relationships with their neighborhoods, they feel better about their communities and will care for them. You can buy coffee at QT and McDonald's but the results just aren't the same.
Support the Cause!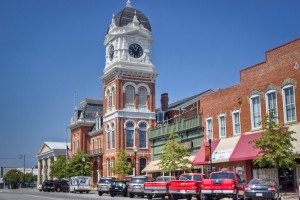 Many of us go to chain stores to shop because we don't have a lot of local options or we automatically assume the prices and variety will  be better at an international retailer. It's a dangerous cycle. When consumers invest in big-box stores, it can be hard for locally owned businesses to compete. Their prices may increase to stay alive or they cut back operating hours, both of which limit consumer accessibility. Then the small businesses close, resulting in fewer shopping options and less competition for the chain stores. Support local entrepreneurs and stop the cycle!
Even when your options are limited, support the local businesses that do exist by making them your priority. Step inside. Explore what they have to offer and discover new gift ideas! Nothing nearby? Browse online for local businesses in your state. Many offer online shopping.
Check tags: if an item claims to be locally handmade, then its tags should reflect that (if there is a tag at all). Sadly, some shops order cheap, handmade-looking items of unknown origins to cut costs. This has become particularly problematic on Etsy and during seasonal festivals. Check the tag and support the shops that truly employ local artists and artisans.
Stay in tune with civic events and show your support for the development and introduction of independent businesses in your community.
ROLL CALL
I'm looking for new businesses to love! Share your favorite local business below!