Old San Juan is indisputably one of my favorite cities in the world. I've gone several times but this was the first time I was going to enjoy the city on my own terms.
Or so I thought.
I woke up so terribly excited. Today was the day that I could share one of my favorite towns in the world with my husband for the first time. Every day, Carnival Cruise Lines issues an updated itinerary. It was the first thing that I grabbed when I got out of bed. I flipped it open as I started to brush my teeth.
Pause. I stood with the toothbrush and minty foam in my mouth.
Due to an "emergency," we'd lost several hours at sea. This meant that we would get to Old San Juan later in the afternoon. We'd only have two hours of daylight. Two. Hours. I nearly burst into tears and drooled toothpaste into the sink.
Every hour that I spent on the boat that morning reminded me of hours that I would be missing in the city. My husband kept trying to cheer me up, sweet soul, but I was feeling so stubborn that nothing could console me until my feet hit the blue brick roads of Old San Juan.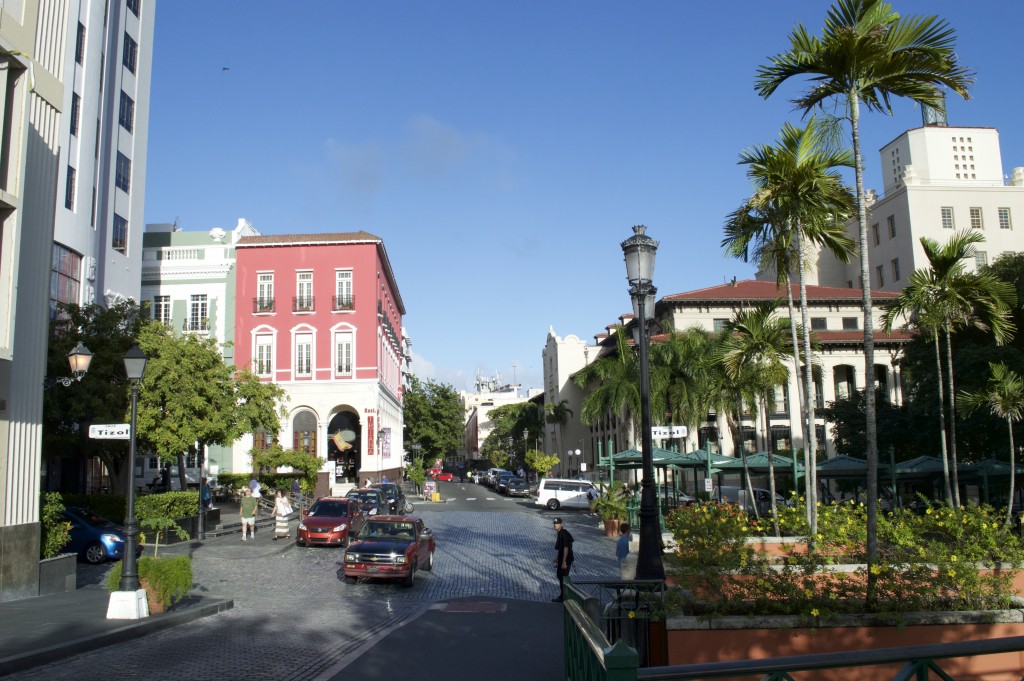 When they finally did, I was able to shrug off my hatred for Carnival Cruise Lines and put a plan into action. I was determined that my husband love Old San Jan as much as I did, so we headed to one stop near the harbor that I knew would be impressive: Fortaleza San Felipe del Morro.
We took the scenic route, leaving the harbor and following the coast for as long as we could before the pavement and parks ended and we were forced to head inland.  So many memories came rushing back to me–lonely times during my first summer there that were made better by strolls through the parks, along the coast, learning every little nook and cranny while trying to look like a local–I wanted to stop in different parks and reminisce with Alejandro but there just wasn't time! We passed through El Parque de las Palomas on our way to the La Plaza De Quinto Centenario before the vast expanse of rolling hills announced our arrival at del Morro.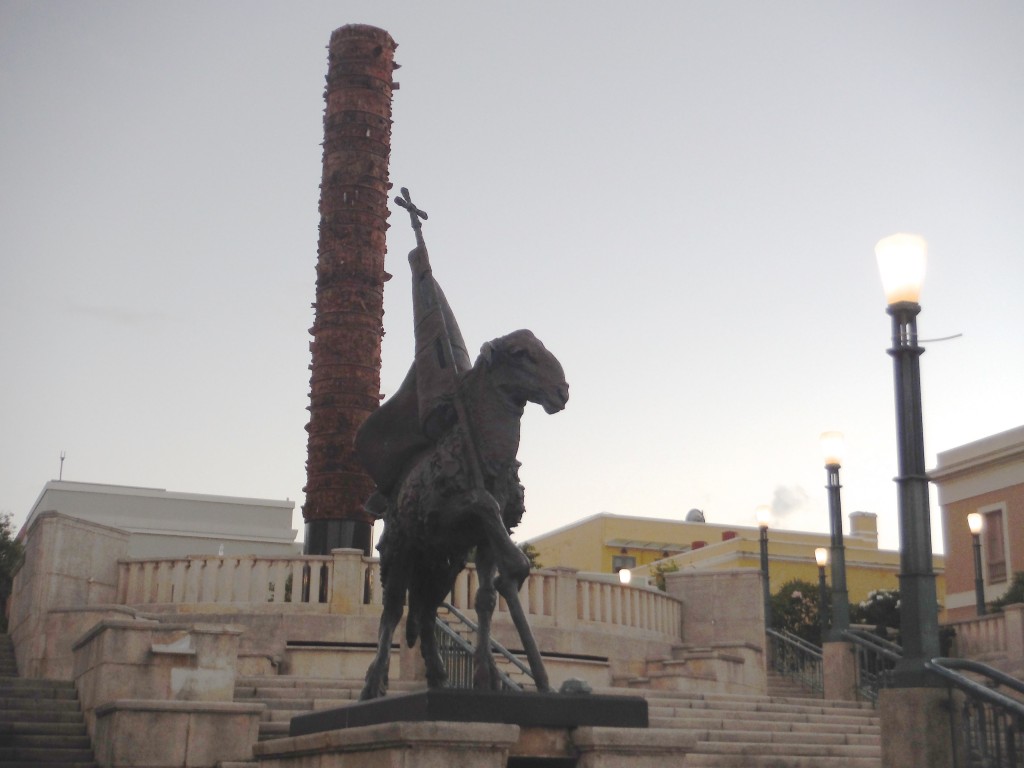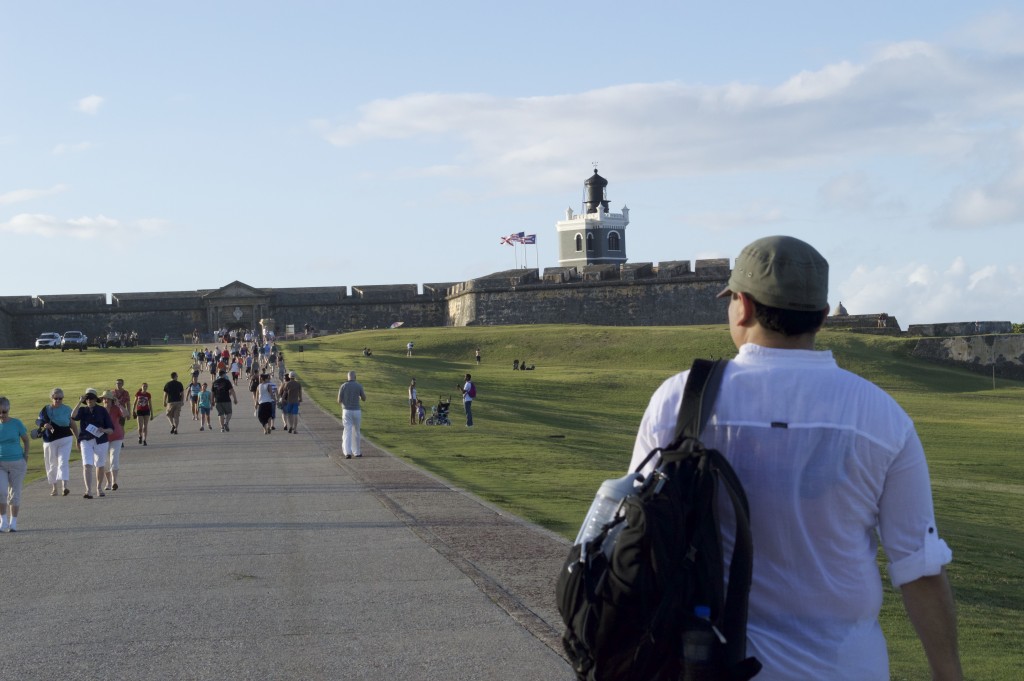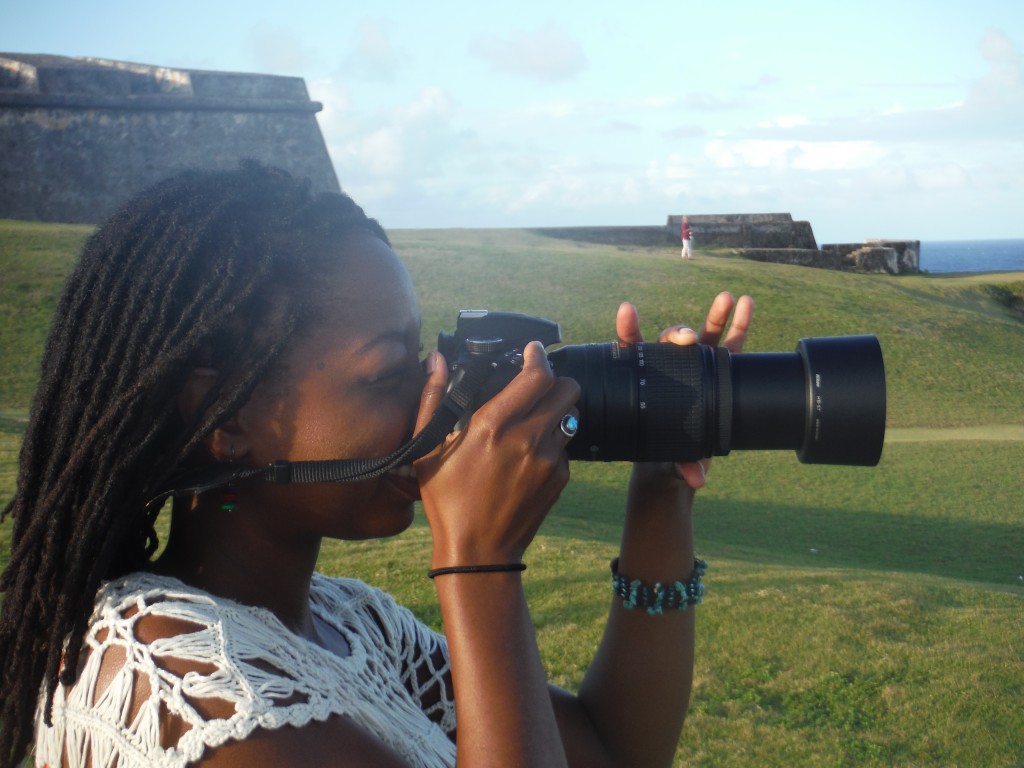 We didn't have much time but I think we got to explore a few highlights of the fort.
Fort San Felipe del Morro is the oldest European construction in the National Park Service. The fort has one of the best vantage points on the island. From it, the Spaniards monitored access to and from much of the Caribbean. Guests can take advantage of guided tours, videos and other presentations starting every 20 minutes or so. Services are offered in English and Spanish. The fort closes around dusk (hours change based on the season) but the beautiful park grounds outside of the fort remain open.
Honestly, I have little interest in forts outside of the their architectural features, but I do recommend that you visit because it's stunning.
I took my husband because he loved war history. While he enjoy it, he seemed much more obsessed with recreating the license place image.  The Puerto Rican license plate features a garita, or lookout tower, against the sea. Most of the towers that can be seen from land are facing the left, but there is one special one that faces the right and that's the one on the license plate. Found it!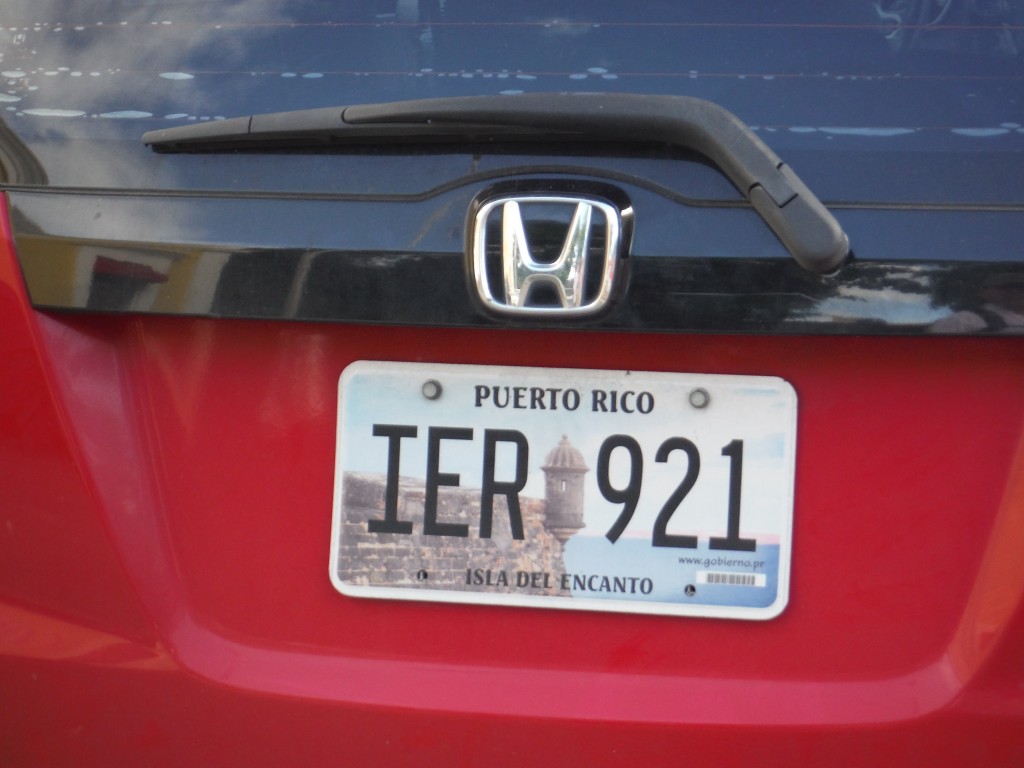 We headed back outside just as the fort closed, slipping through the doors of a gift shop and snagging a pin for our National Parks walking staff. (Yes, we're dorks.) Upon leaving, we embraced the most stunning sunset! Beautiful rays of light burst through the clouds just inches from the horizon. The dying light illuminated the fields and nearby Cementerio Santa María Magdalena de Pazzis. The cemetery was closed (also at dusk) which was shame because sunset it the most beautiful time of day to view it.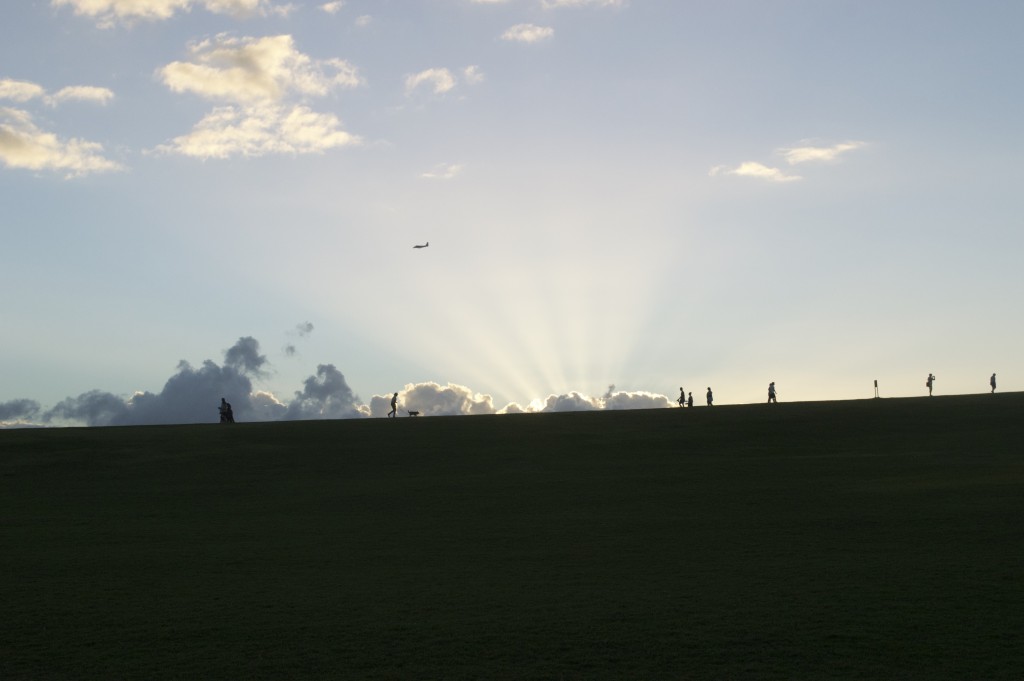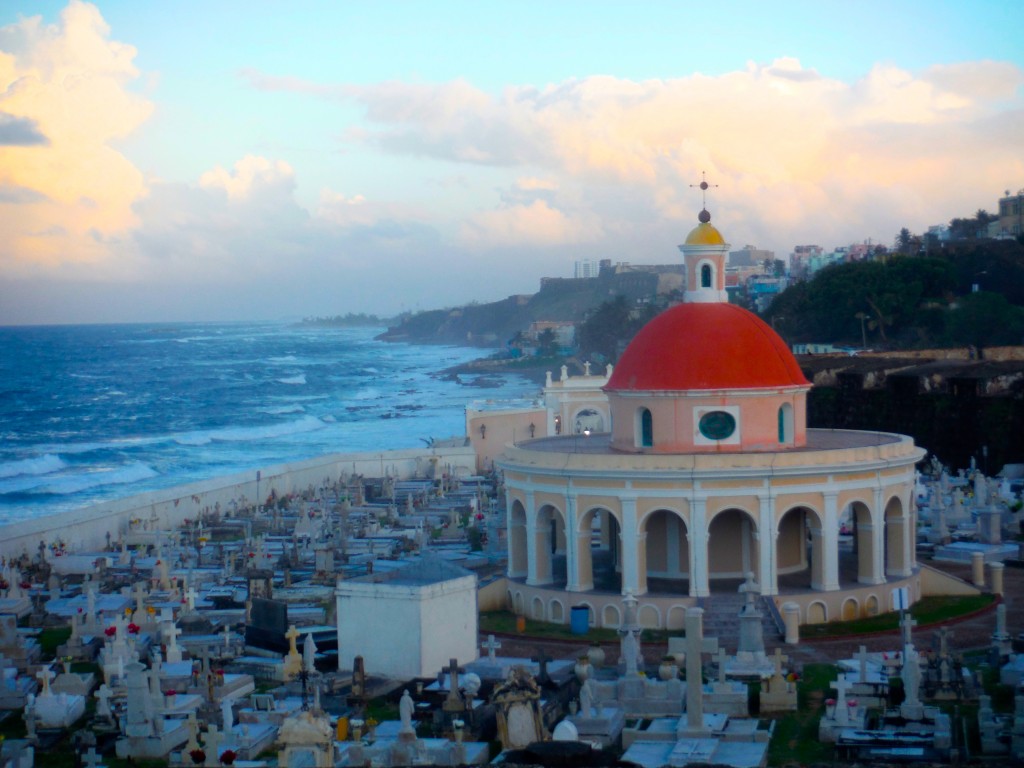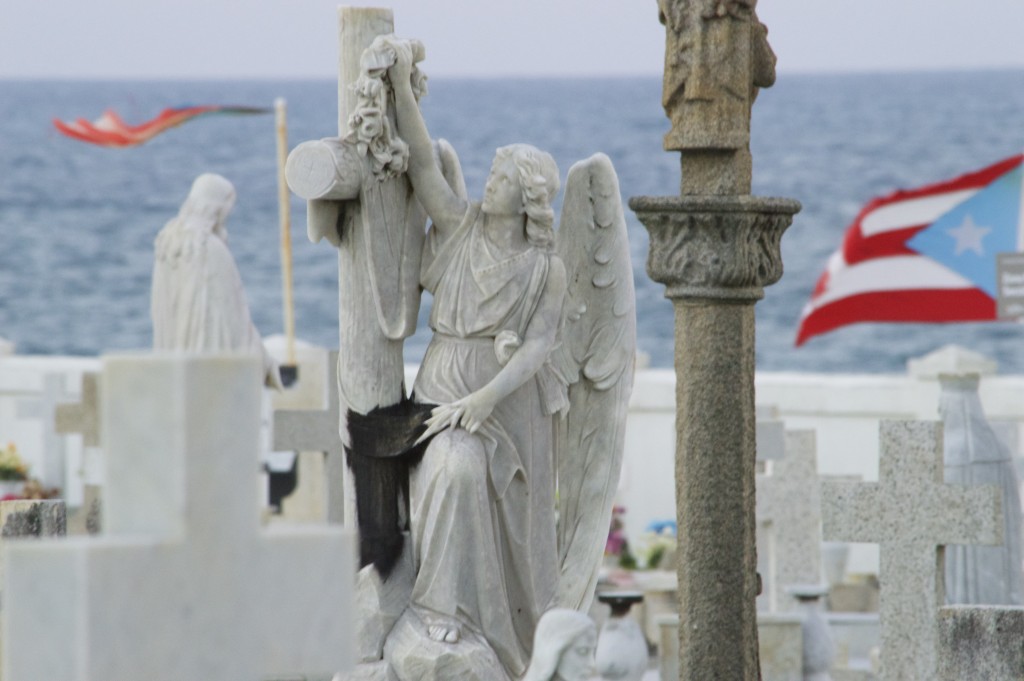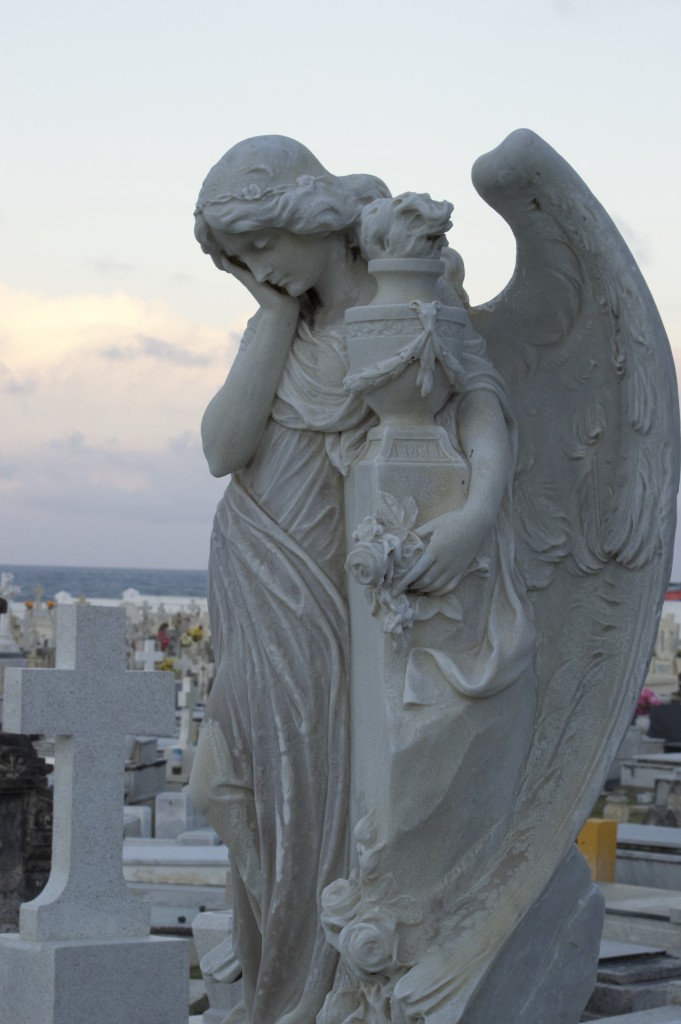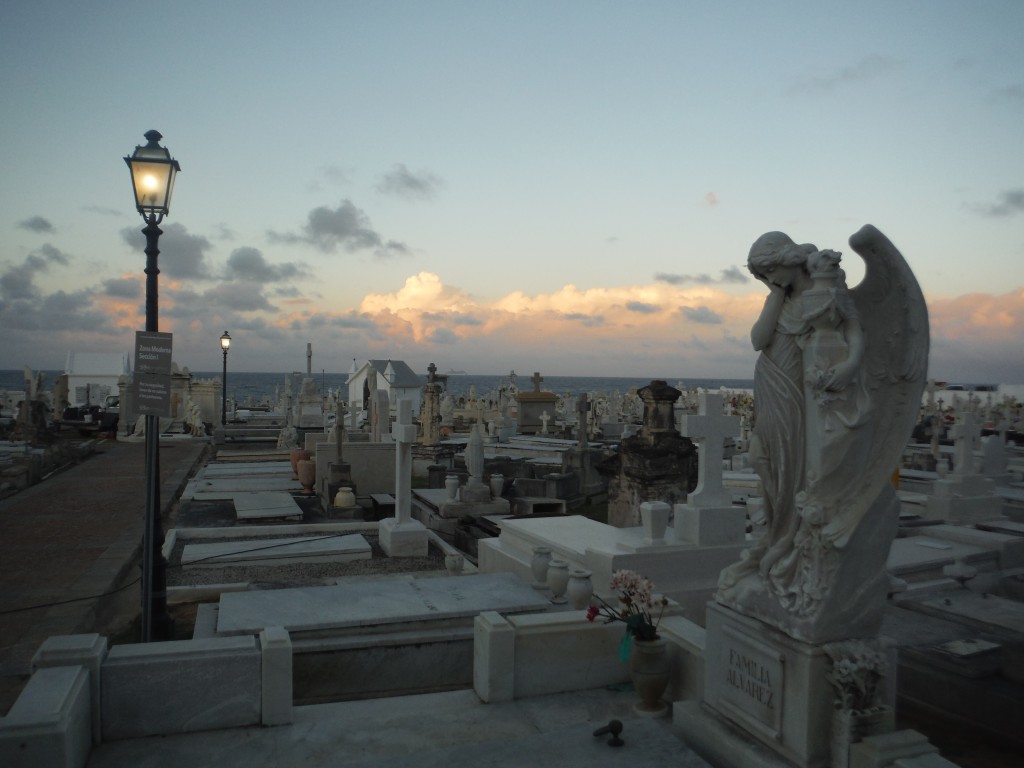 After so much beauty, our spirits were high but our bellies were empty. We headed back towards the boat, hoping to find a great restaurant in Old San Juan. Along the way, we ran into a few stilt walkers—nice kids who were more than willing to take pictures with us. They were practicing for an upcoming performance in a nearby square.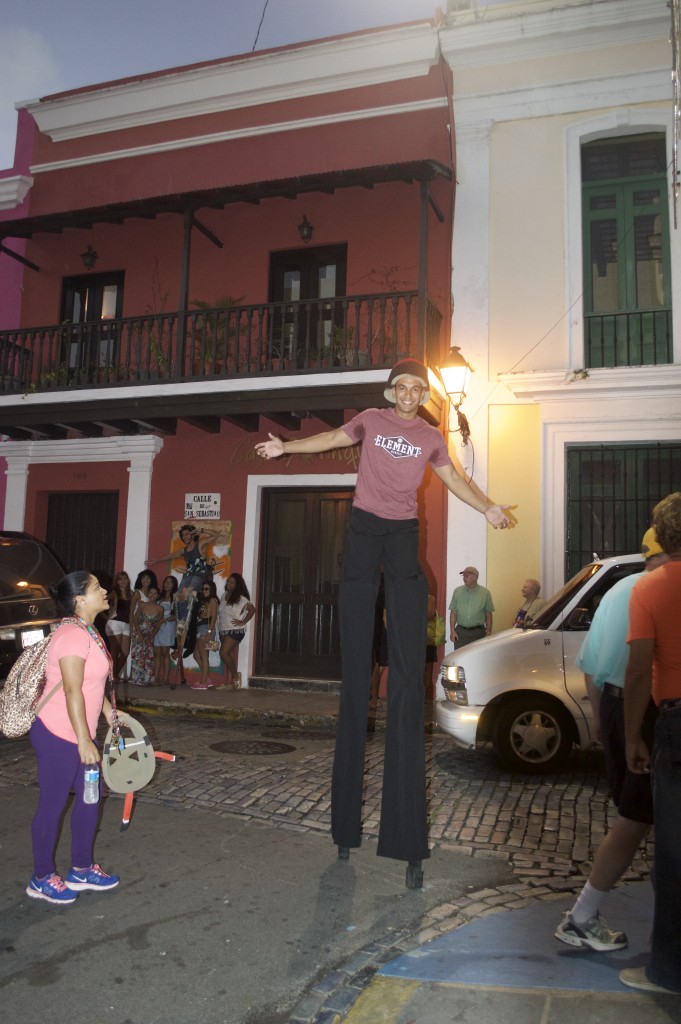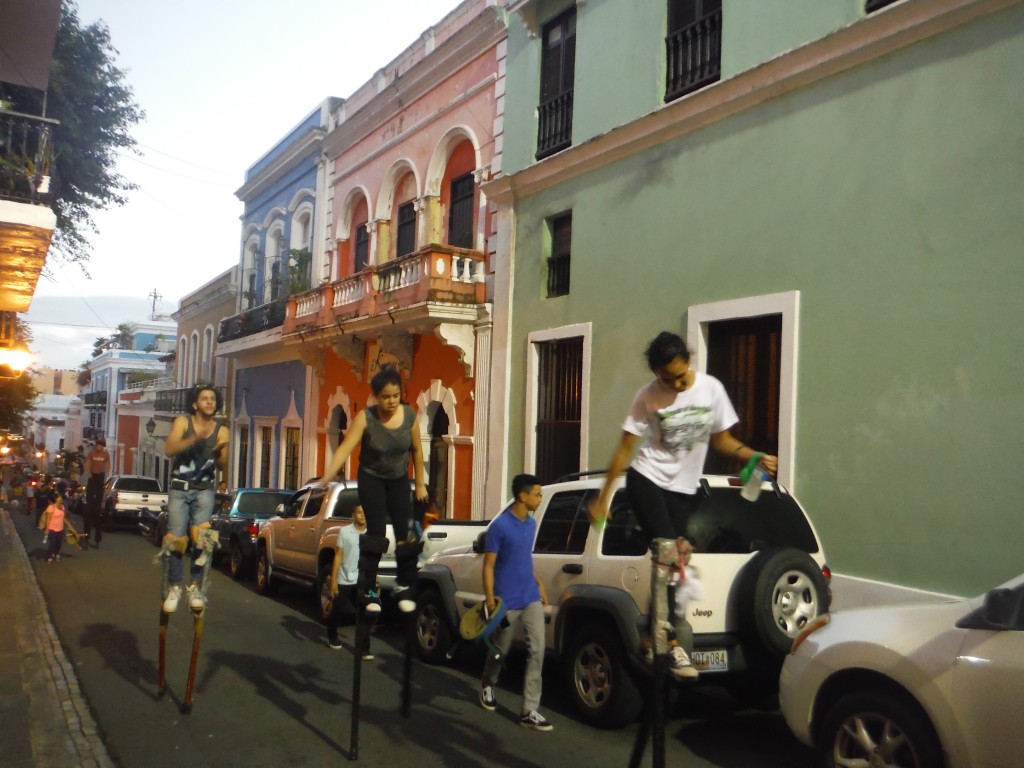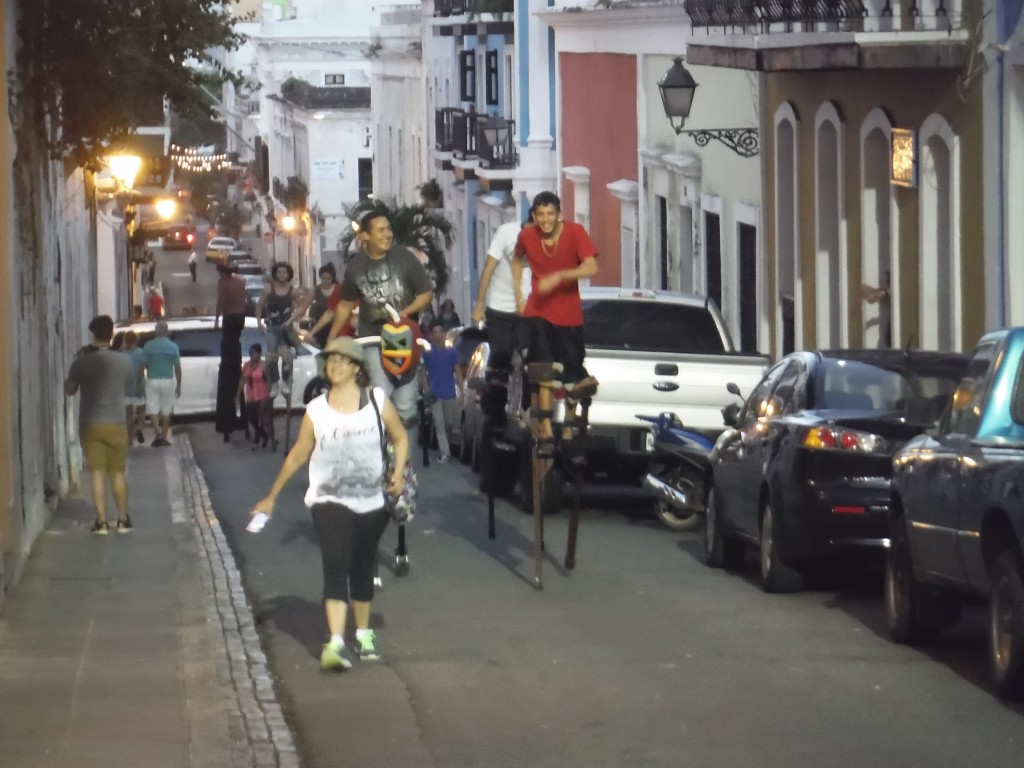 On the same street, we ran into a beautiful mural on the side of a ruined building. I'd seen it before and I was elated to stumble across it again. It's located near the intersection of Calle Sol and Calle Cruz.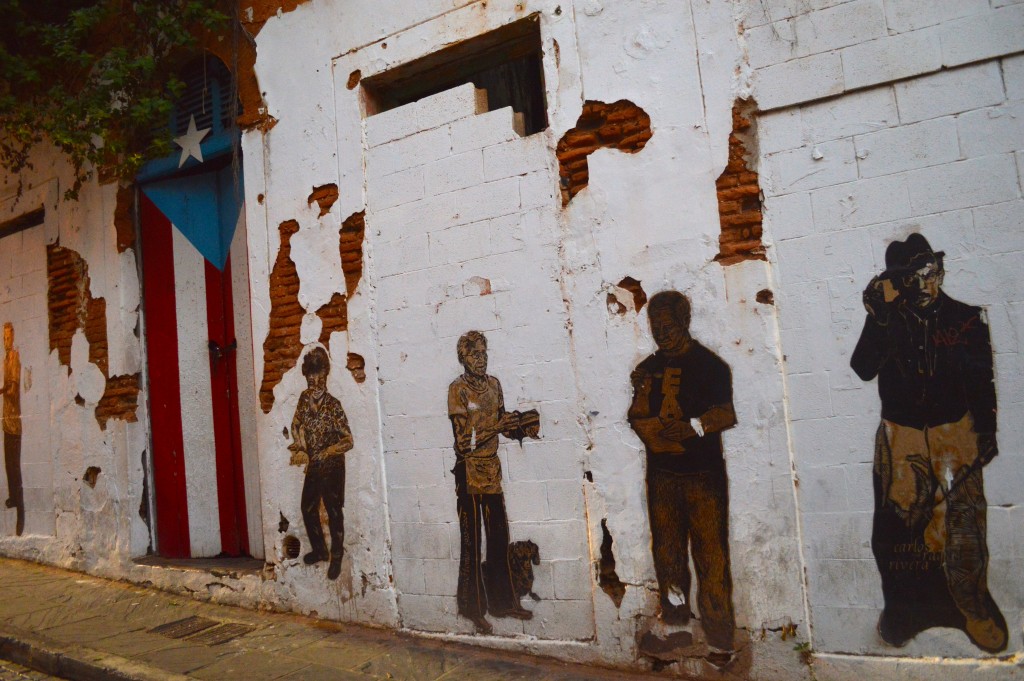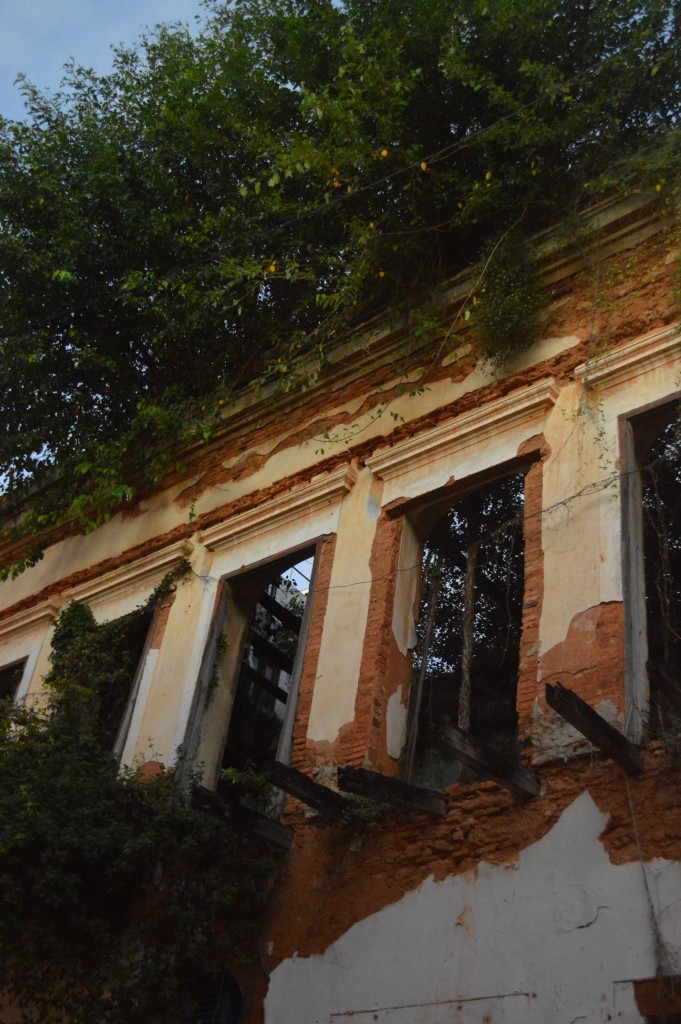 Our tummies pressed us onward. We headed back to the main drag and settled down at Inarú, a restaurant with adorable patio seating, an excellent vantage point for people watching. There were plenty of locals in business attire heading home and tourists in, well, tourist attire, heading out for the night.
But you want to hear about the food, right? We started off with white sangria and fish ceviche. The sangria was perfectly refreshing with a tropical twist of mango and pineapple. It wasn't very strong, so we drank a pitcher by ourselves with only the slightest buzz. The fish ceviche appetizer was solid. Fresh fish, plenty of citrus and cilantro. Get it.
I ordered mofongo relleno con mariscos, my go-to dish on the island. Mofongo is made of smashed plantains, garlic, and other ingredients that vary based on the cook's preference. It's a bit like slightly undercooked, chunky mashed potatoes we wonderful seasonings. Sometimes, mofongo can be too dry but Inarú did a great job. The tomato-based sauce and plenteous shrimp balanced out the mound of plantains.
Alejandro got the grouper and scallops, served in a buttery cream sauce. The seafood was fresh and prepared well but he felt that the sauce and veggies were underwhelming.
Nothing beats the location and atmosphere of Inarú, so I'd come back again and recommend it to anyone else who is looking for restaurants near Old San Juan harbor and piers.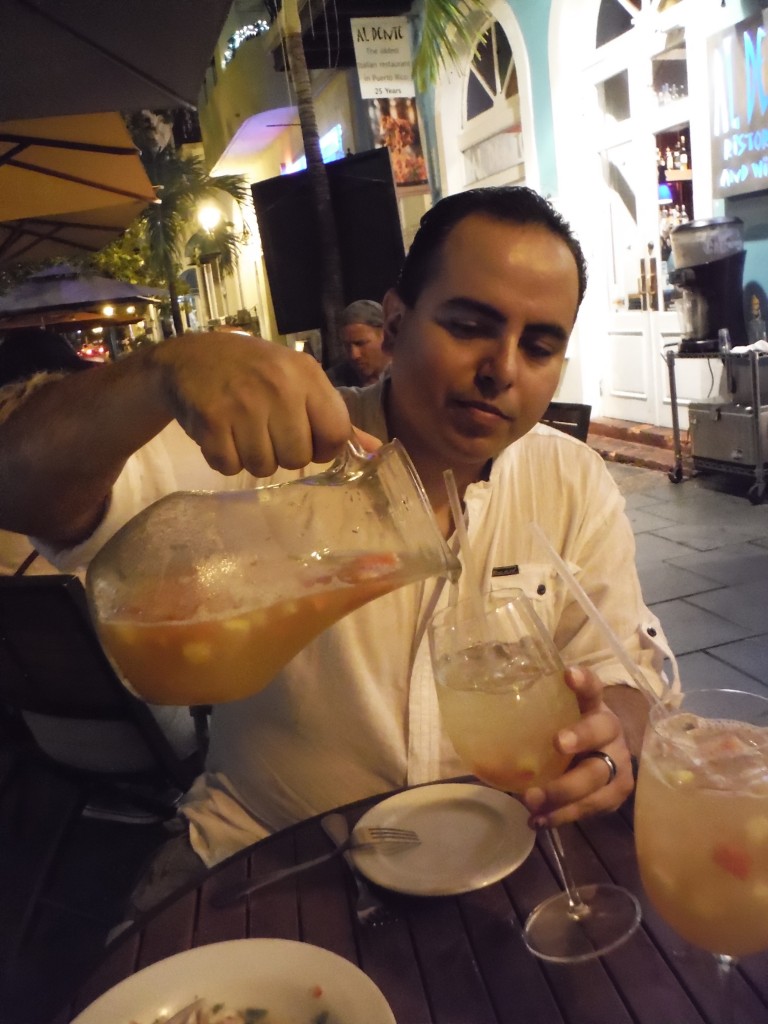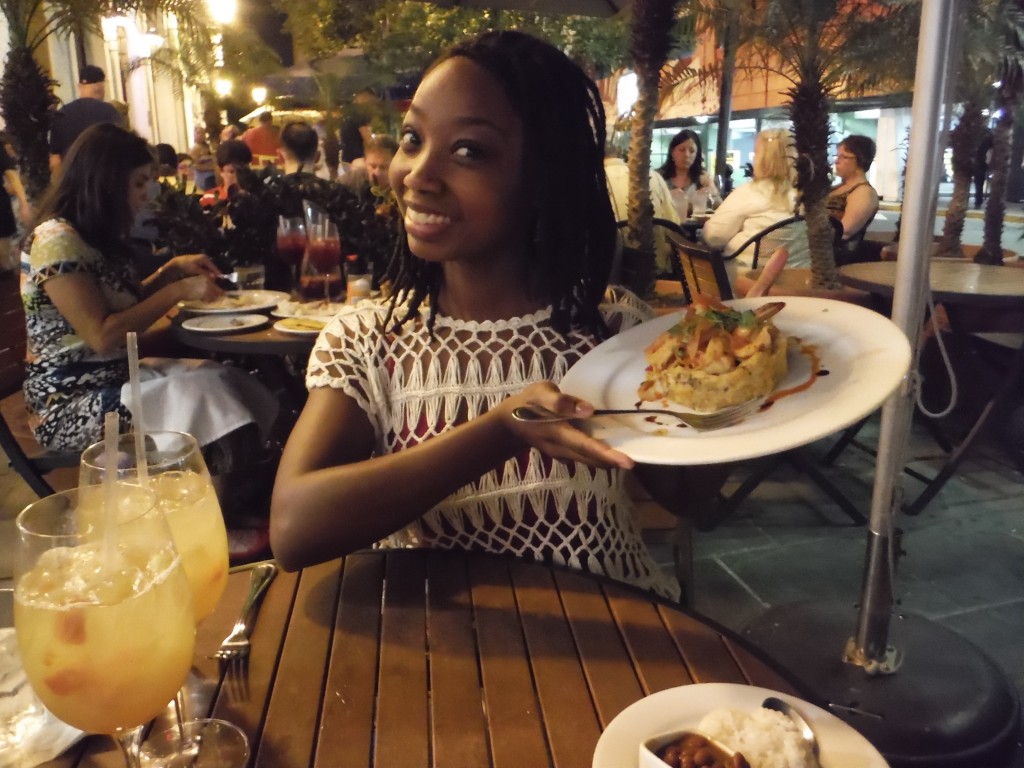 After dinner, we popped into nearby Toro Salao, a tapas bar. There was a nice blend of Puerto Ricans and tourists present, which bodes well. Too full for tapas, I was content to sip fruit juice while Alejandro requested a glass of the rose sangria. I was instantly terrified; our bartender whipped out an old Costco-sized Welch's grape fruit jug and began shoving the necks of mostly-empty bottles into the mouth of the container. Wines, liqueurs, juices, all indiscriminately dumped into the plastic jug. The rose sangria looked like a nightmare in a plastic bottle.
Oh contraire. It was divine.
Between the two of us, we ordered six more massive glasses. The bartender only charged us for a pitcher. I was too tipsy to remember her name (sorry, folks) but God bless her and her offspring! Our companions at the bar also loved the cocktails and mentioned that this was one spot that they returned to year after year when they traveled to Puerto Rico. We will be back again, too.
Toro Salao offers stunning service, delicious drinks, and a night well spent. Go there.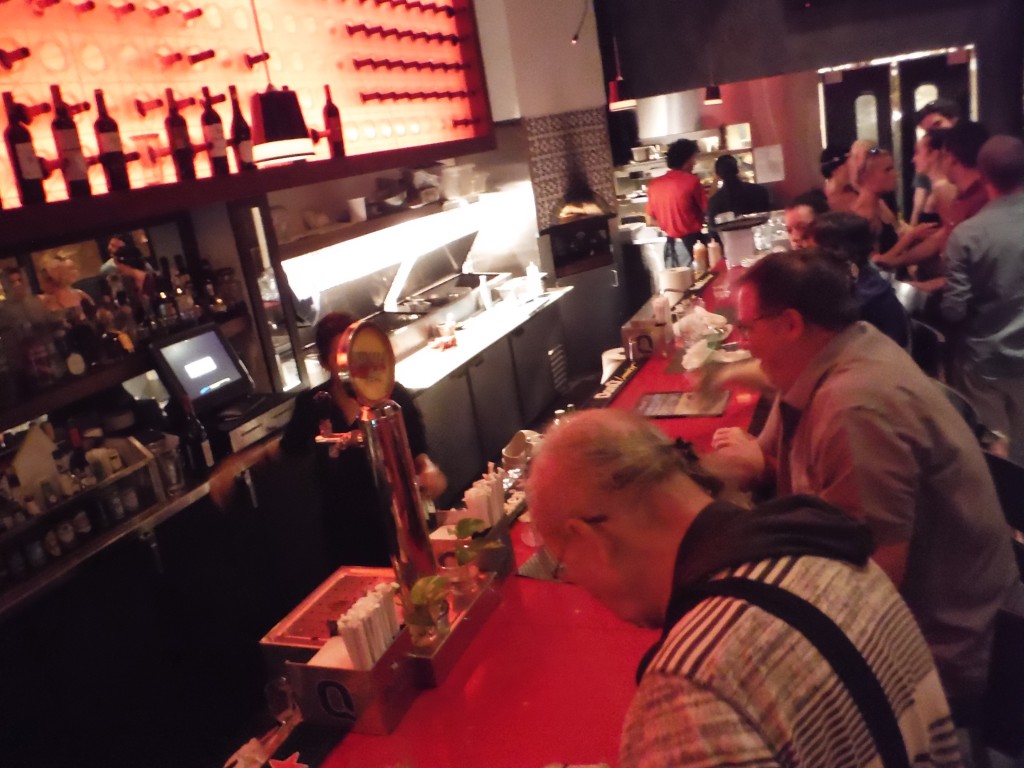 I can't wait to return to Puerto Rico, hopefully with more than two hours of daylight. If you've been to Old San Juan, be sure to share your fave destinations with me!