By July the organic garden was doing fairly well. It wasn't easy getting there, though.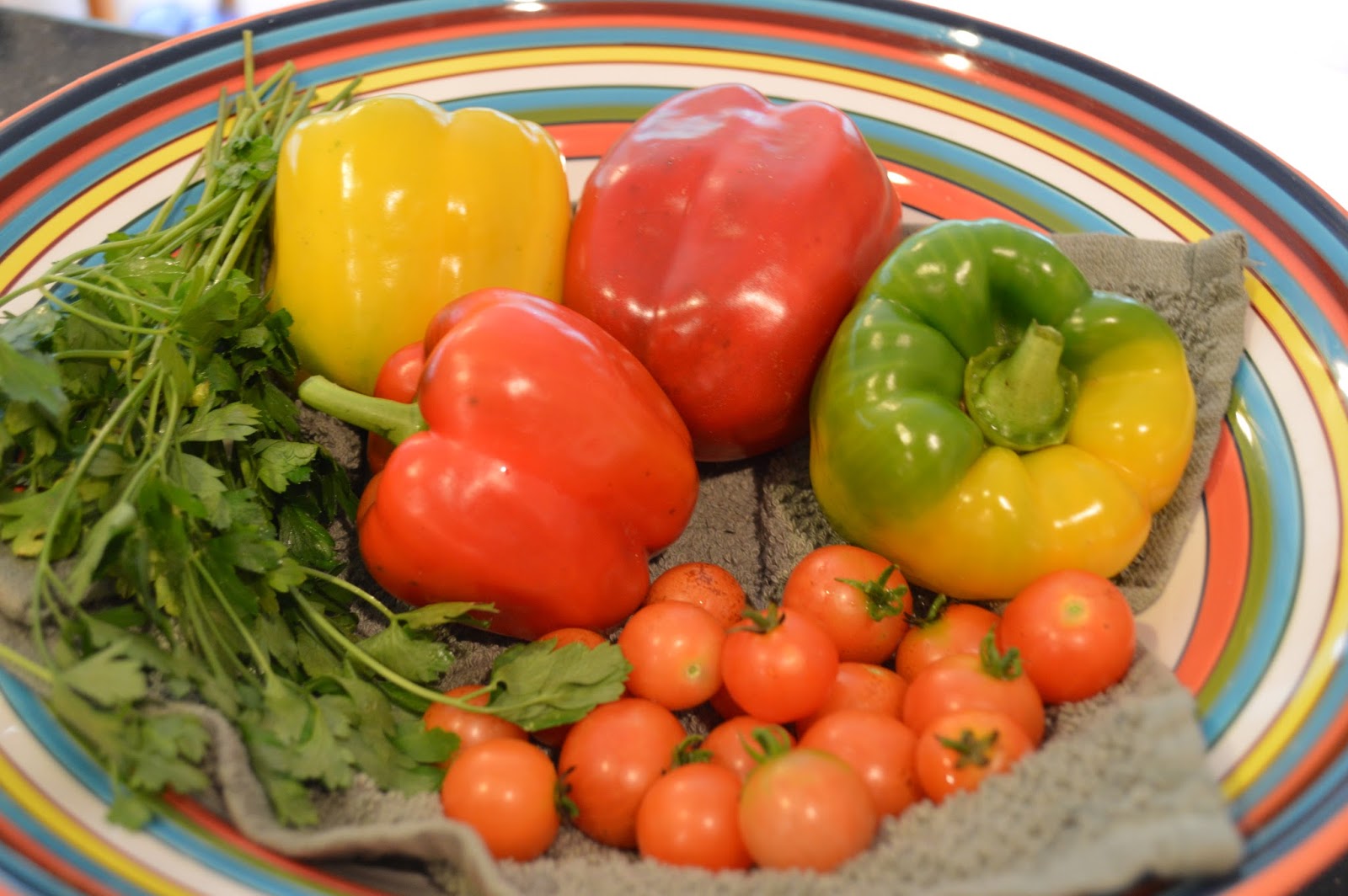 This is one of the larger harvests of the month. Humble beginnings!
The weather gods are against me. Days of 90+ degree heat have been intermittent with deluges. The soil started to erode in the frequent downpours, exposing some plants' roots along the perimeters of the rows. I hadn't amended the soil properly beforehand so what wasn't eroding near the edges began to form puddles near the middle. It was a hot mess.
I knew this would happen, to an extent. Georgia's clay is horrible with water management but in my haste to get the garden started I figured it would be okay for the first season. (My mother had a beautiful flower and shrub garden. Veggies couldn't be that different, right? Wrong.)
As a short term solution, I bought topsoil and added it to the rows. The chunky little bits of wood slowed the erosion and minimized the puddles at the surface. The added soil also covered the exposed roots. Once the weather became a bit more merciful, I added liquid fertilizers and diligently applied insecticidal soaps to fend off critters that tried to take advantage of the fragile plants. Shame on them!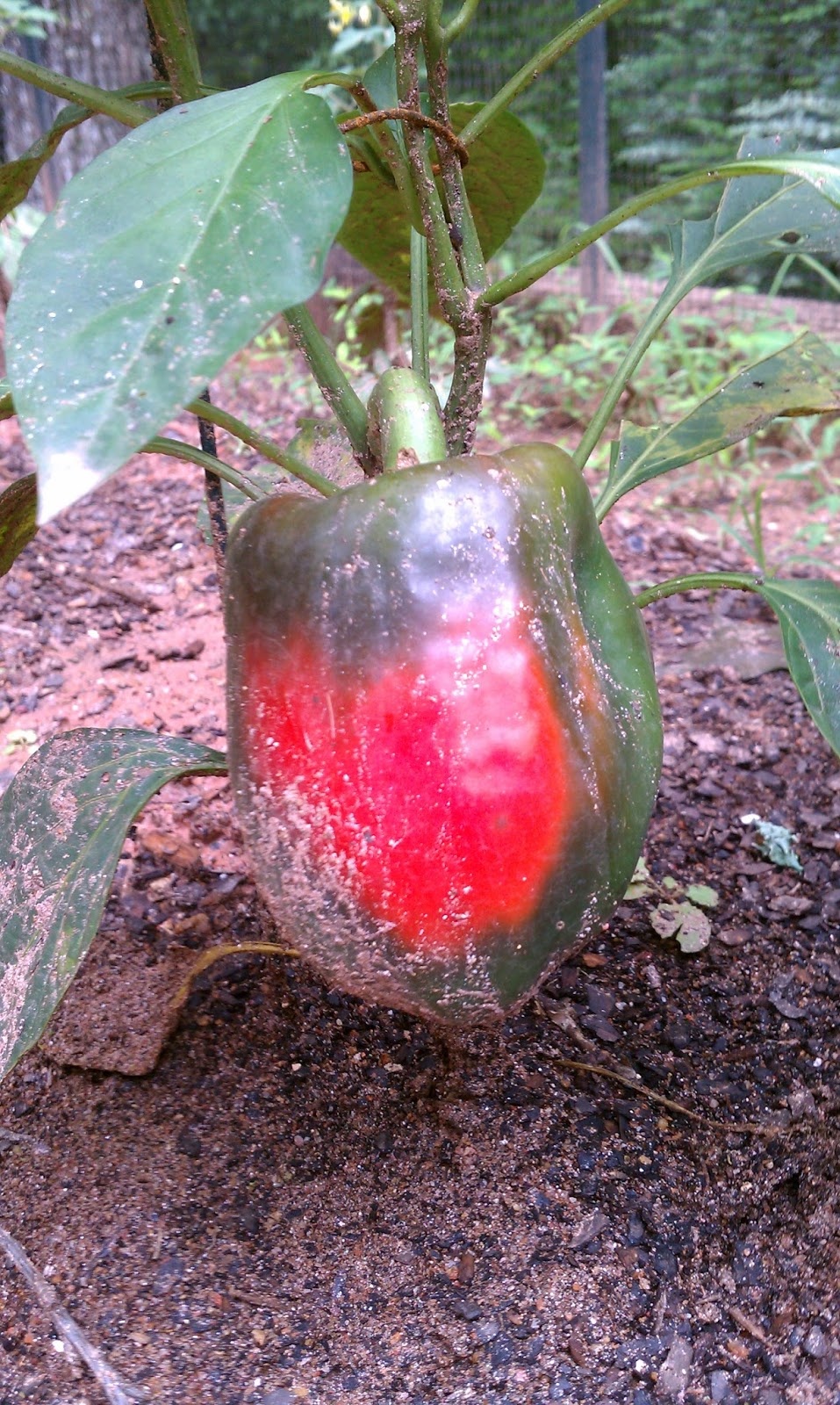 Slowest. Change. Ever.
The quick-fixes worked long enough to let the batch of plants produce some promising fruit. The Bonnie Patio Tomatoes–so named because the plants only grow 3 feet tall and can fit in a patio container–were the first ready to harvest. Our tomatoes are DELICIOUS and they're still giving fruit now at the tail end of August.
The Bonnie Red Bell Pepper and Bonnie Yellow Bell Pepper plants consistently bare large fruit (5+" long and about 6+" in diameter) but they take weeks to change color since they aren't getting as much sunlight as they should.  When they finally change, they are very flavorful and I love their brilliant colors. So delicious and lovely, in fact, that I refuse to cook them. We only eat them fresh so we get the full enjoyment of the nutrients and color.
Next, the Sweet N' Neat Cherry Tomatoes by Park Seed that I started from seeds began to mature. They produce the cutest little cherry tomatoes and I get 10-20 per week. I slice them in half and pop them over salads and omelets.
The herbs were most difficult to grow outdoors, surprisingly, but I'm not sure why. First problem: Georgia heat can be a beast. Second problem: the seeds are by Weeks Seed Company, a small business without a very strong reputation. Third problem: they seeds were stored at this local nursery. Only God knows how old they might've been. So many of the seeds were duds.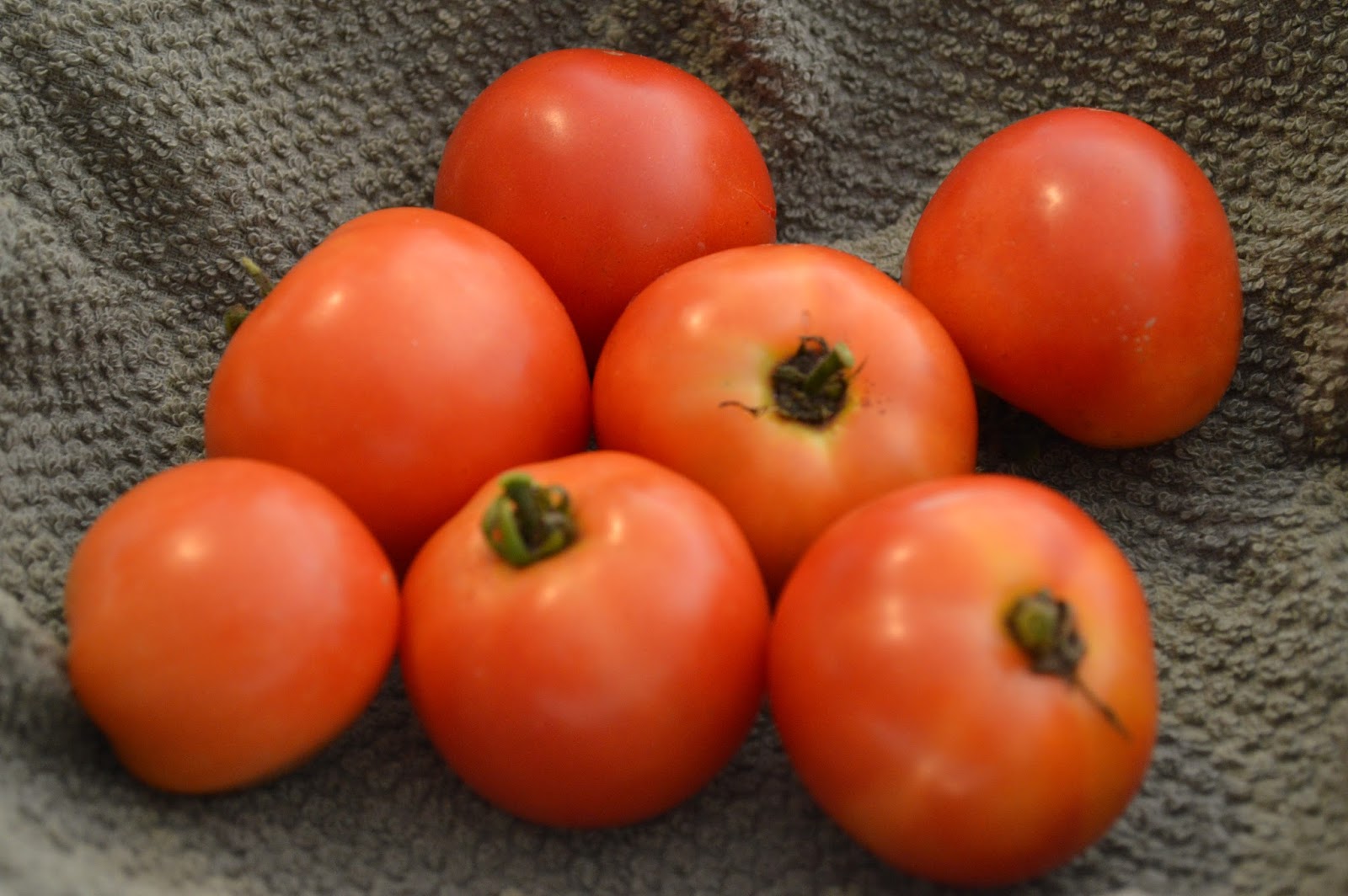 Nom nom cherry tomatoes!
I did manage to get some decent chives and parsley out of the bunch. The basil hasn't matured yet (my fourth try) and the cilantro hasn't gotten beyond a few small leaves and scrawny stalks. I know better what to do when the cooler months arrive.
My Sweet Rainbow Blend Peppers and Cayenne Blend Peppers, both grown by seeds from Park Seed, will be the last to mature. I know Alejandro is excited about the homegrown cayenne and I personally can't wait to add the multicolor peppers to some sort of sautee or stir fry. More to come!