Panola Mountain State Parkis a 100 acre reserve created to protect one of Georgia's granite monadnocks. Unlike the more popular Stone Mountain or neighboring Arabia Mountain, Panola's caretakers have undergone serious efforts to preserve the rare plant life found at the site.
My first time at Panola Mountain Park, I walked the trails with my girlfriend from high school. Pets aren't allowed so we had to leave Riley at home. My friend and I walked about 7 miles round trip (out of a possible 24) at a brisk pace, fast enough to feel like we were getting a workout but gentle enough that we could carry out conversation. The terrain is fairly level with slight elevation gain but nothing that put us seriously out of breath. Much of the trail is shaded, which is excellent since we'd caught a relatively hot day in the late summer.
Walkers share the paths with joggers and cyclists. That wasn't a problem like it was at Roswell Park, where I was nearly run over a few times. The concrete paths at the park are wide and I think there are fewer cyclists in my area in general.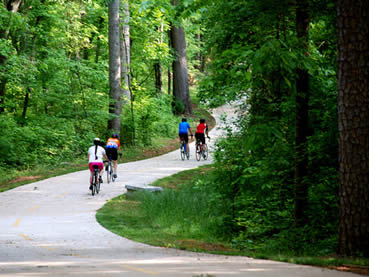 I went back to Panola about a month later with my boyfriend. With bikes in tow, we set out on the trails. Biking makes a major difference. I swear that the hills got bigger! I died three times. Or at least twice; I actually dismounted and walked while my boyfriend pedaled up the hill, pulling my bike along beside him. While that little gesture made me love him more the event reminded me of three things:
I need to get in better shape so my bike and I will be back on those trails again.
Walking and cycling use completely different muscles. I knew this, of course, but I was surprised at how true it is. I can walk forever. Biking 7 miles with minor hills just about sent my thighs to the grave, dragging the rest of my body with them.
Lactic acid is brutal. Even when I wasn't winded, the burning in my thighs made me stop moving. It reminded me of when the dance team coach made us do multiple toe-touches back-to-back. I always questioned my dedication to the team after those sessions.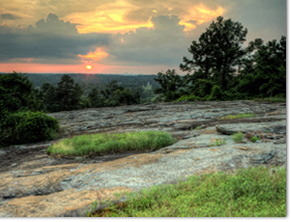 Other than torturing myself with cycling, I've got a few other reasons to return to Panola. They've got a new archery range! I can get my Amazon Woman-on for $10 per session. Annual passes are available for $100. I enjoy amateur archery. My older brother and I would make bows and arrows out of sticks when we were kids. He got a crossbow as a teenager. I think it's time to get back to that.
In addition to the range, there are also opportunities for geocaching. For people that are into tree climbing and fishes, the park has activities for you, too.
Have you been to Panola Mountain State Park? What's your favorite activity to do there?
Credits:  Walking Trail Photo, Biking Trail Photo, Sunset at the Park