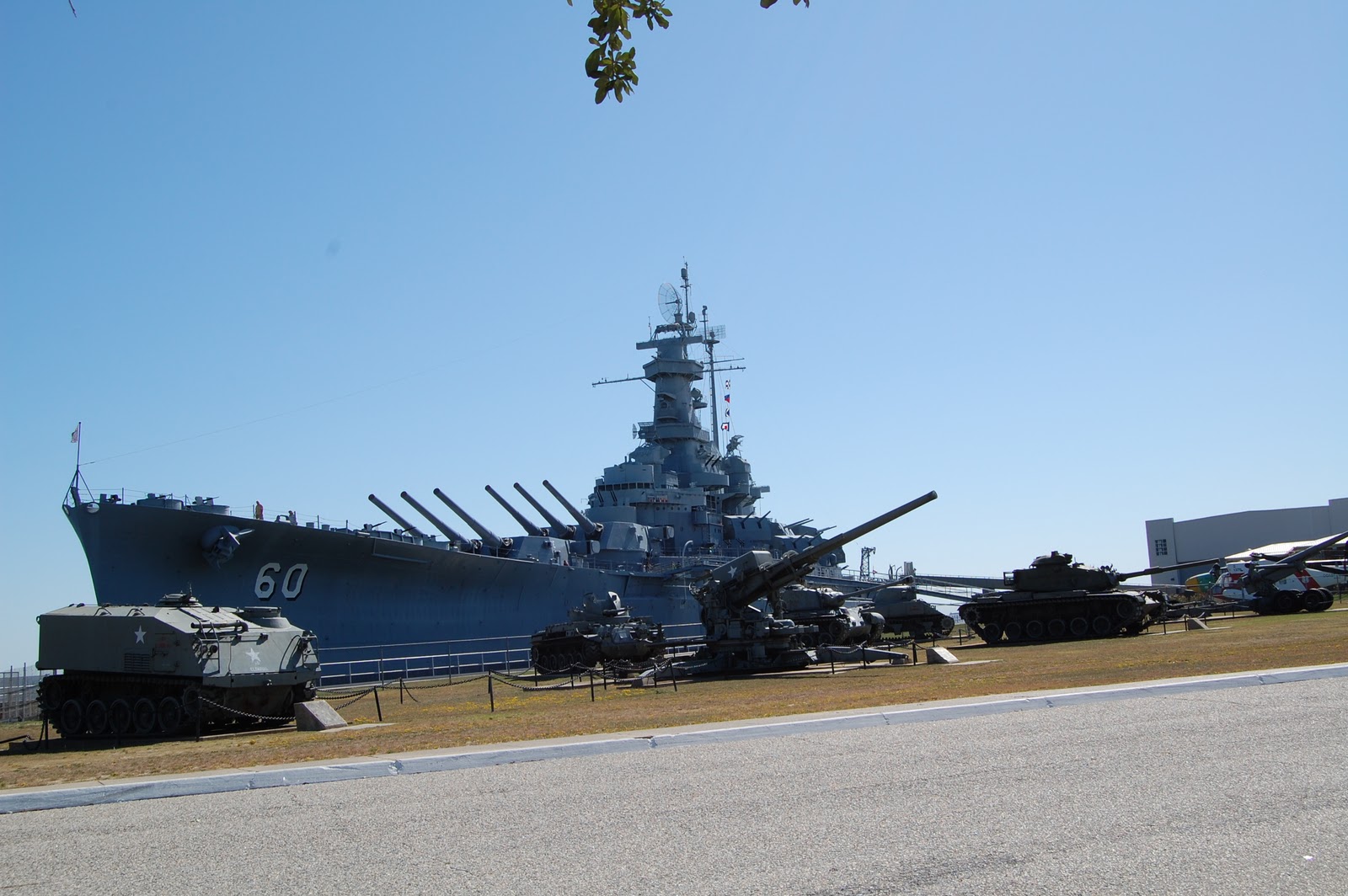 The guys heard about the
USS Alabama
and decided that we should tour the battleship. I hadn't toured a battleship in well over a decade and my sister never had. Why not?
Here are a few notes for surviving the ship tour:
Lose weight and consider shrinking. The corridors are small, the doorways are smaller, and I am convinced that sailors were all 4'11'' or shorter.
Take breaks. They aren't kidding when they suggest allotting at least 2 hours to tour the ship. There are God-knows how many levels and tiny rooms to investigate. Since many of the spaces are tight and the hallways are winding, it's easy to feel a bit claustrophobic or oppressed.
Go with people who really enjoy history or battleships. Enthusiasm is contagious. Otherwise, you'll be bored to tears very quickly.
Don't bring babies. Who would? you wonder. Some woman thought it was a good idea and I swear she nearly dropped the child three times trying to climb through the doorways and up the ladders. It was absolutely frightening. And I don't think there is anywhere to change a diaper.
 My sister and I only made it through the green tour. (There are also yellow and red tours, I think.) The guys went to the very top. I later joined them to tour the adjacent Air Force museum.
Notes to survive the Air Force museum:
Read all the little plaques, even if you usually skip them. Interesting stuff! And most of them are short, sweet, and to the point.
The flight simulator is a mixed bag. As a ride, it's fun. The movements of the vessel are jolting but not horrifying (suitable for kids) and you can feel the vibrations whenever you're "shot." What ruins the simulator are the 1994 or earlier graphics. I feel like the graphics on my Atari were better. Spoiled, modern patrons will be a bit disappointed.
Felix's Restaurant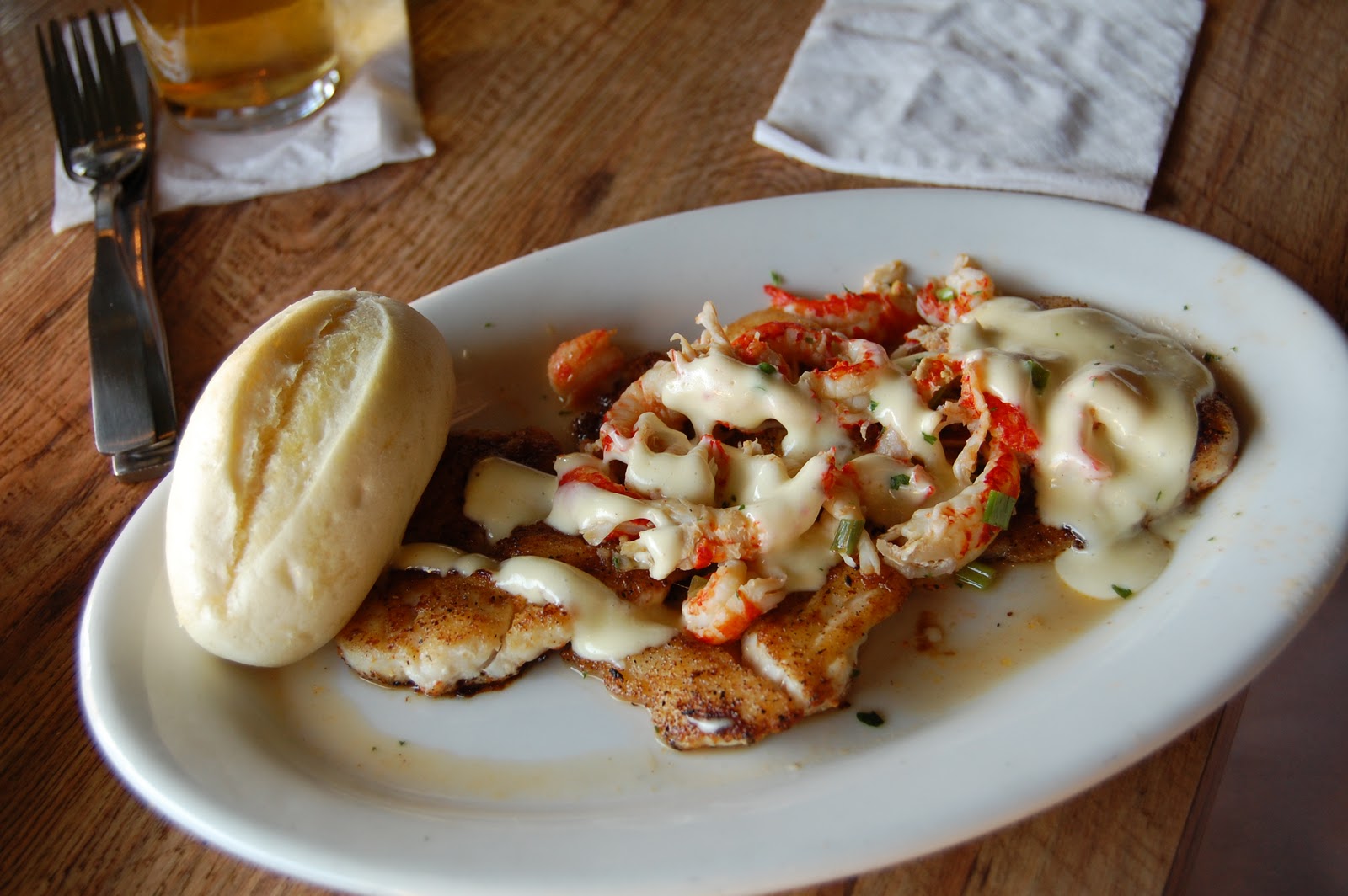 Snapper with crawfish Oscar sauce
Whether you're coming or going from the USS Alabama, it's hard to miss
Felix's Fish Camp and Grill.
It's a two story…shack?….made of corrugated steel that rises majestically from the swampy area along Route 16/Battleship Parkway. The building is so bad that it's cool and we just had to go in.
Yes, Felix's is touristy. It's next to a major tourist attraction, so go figure. But don't fault the restaurant or the staff for picking prime real estate and making cash off of good planning.
After walking up a long ramp or taking the elevator (the restaurant is on stilts since it's next to the water) guests enter the typical wood-clad, nautical themed restaurant. Southwest facing windows make for beautiful sunset views. I don't think the windows are insulated, unfortunately, because it was extremely warm in the dining area.
We settled in, ordered our quintessential oyster appetizer and selected our entrees. I got the stuffed yellowtail snapper, topped with two crab cakes and served with fried green tomatoes. I'm a big fan of Felix's crab cakes, especially when served on top of a thick snapper fillet. It was wonderfully prepared in flavor and texture. The fried green tomatoes only rank slightly above average, too soggy to be extraordinary. I'd certainly go back for the Come Back Sauce, a house blend created specifically for fried foods.
My boyfriend ordered the ½ shrimp ½ oyster poboy with a side of crab soup. We were instantly saddened by the sight of a typical hoagie. (Sea-N-Sud's bun really spoiled us.) It didn't help that the seafood didn't impress, either. Fortunately, the crab soup stepped in to save the day, rich and hearty with chunks of crab.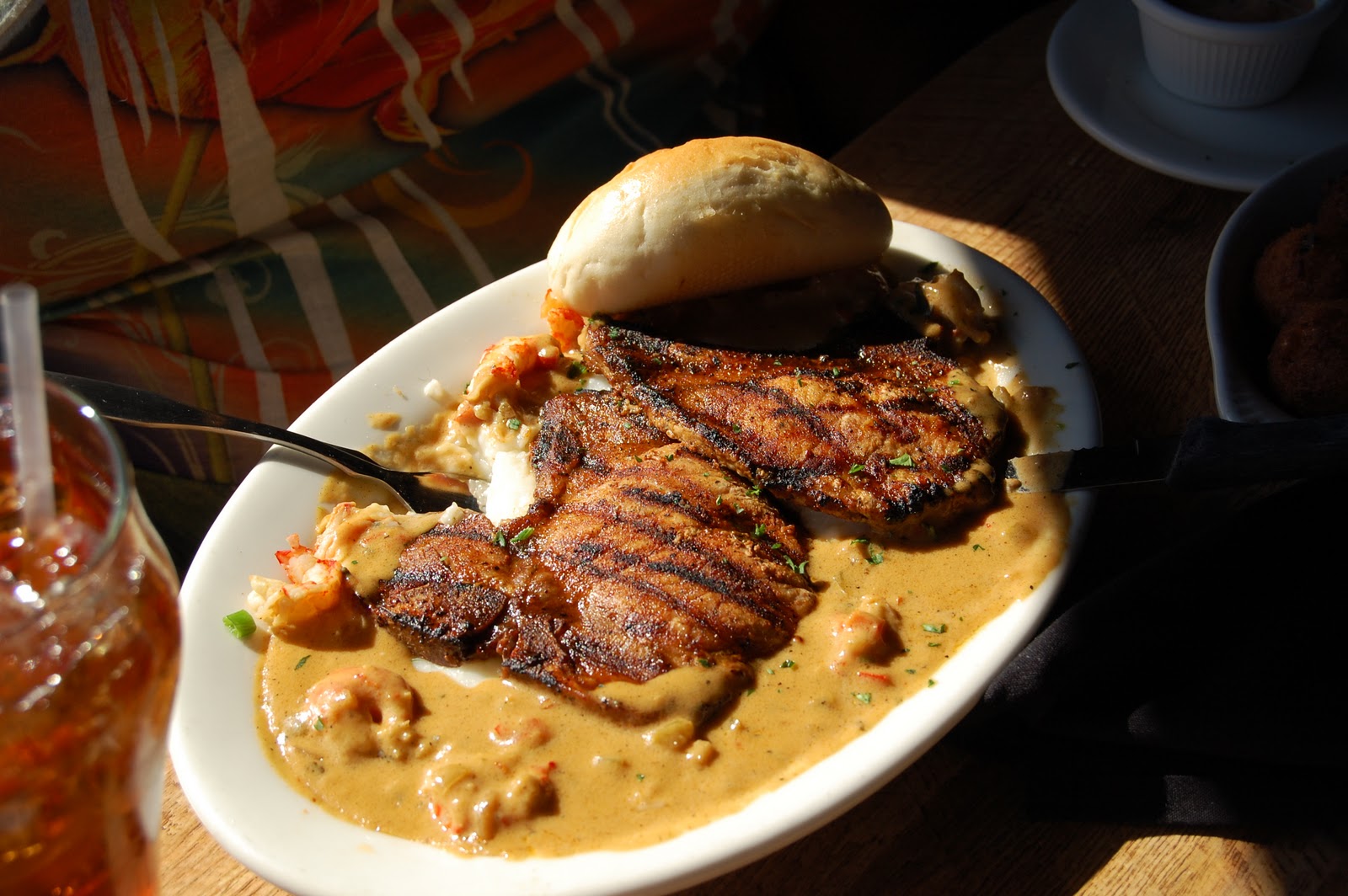 Pork chops with crawfish sauce
Pleasantly surprised by her venture into the unfamiliar, I was glad when my sister ordered the crawfish smothered pork chops with jalapeño fritters (hush puppies). Plentiful crawfish, unique cream-based creole sauce, and a juicy pork chop makes this a recommended dish.
She was less than impressed by the fritters; they lacked spice and flavor.
Her husband ordered the fresh catch which includes grilled yellowtail snapper with crawfish Oscar on top and a side of grits. Felix's Oscar sauce should win an Oscar for its stellar performance! (Sorry, I couldn't help myself.) His only complaint regarded the cheese grits. Grits. In a bowl. With shredded cheese on top. Not even melted.
Overall restaurant rating: 7/10 for great views, Come Back Sauce, fresh fish and hefty portions.
Mobile, AL Driving Tour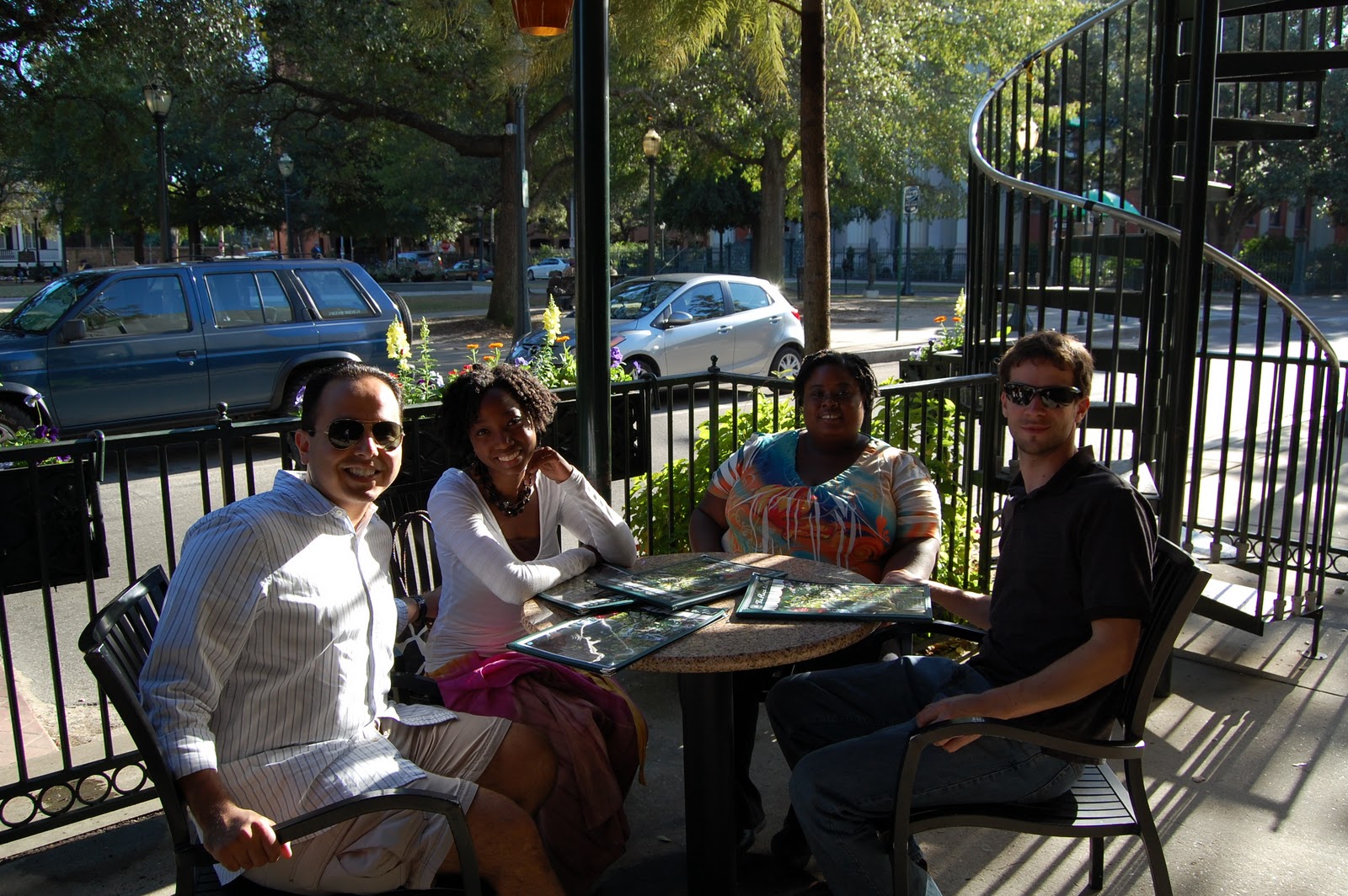 I wasn't ready to make the trek back to Gulf Shores. I didn't imagine that I'd ever come back to Mobile on my own (what's there?!) so I begged my fellow travelers to do a driving tour through the city. We were all pleasantly surprised.
Mobile is by no means a large city but it has plenty of attractions and charm. We drove around a bit, meandering through one-way streets. Dauphin St. held my interest. It reminds me a bit of New Orleans or Charleston; it has glimpses of international influence, ornate wrought iron balconies, and quaint shops. The area is rather pedestrian friendly. We parked and hopped out to look around.
We passed Bienville Square and decided to stop at
Spot of Tea
. The restaurant is located directly across from Cathedral Plaza. We sat on the patio (the bottom, not the balcony, which doesn't open until after 5pm) and watched a group practicing for a wedding in the Plaza. While no one was impressed with the teas (I'm kind of a tea person, so that was a big disappointment) we all agreed that Spot of Tea is an excellent location for people watching, sipping a beverage, chatting and letting the day pass by.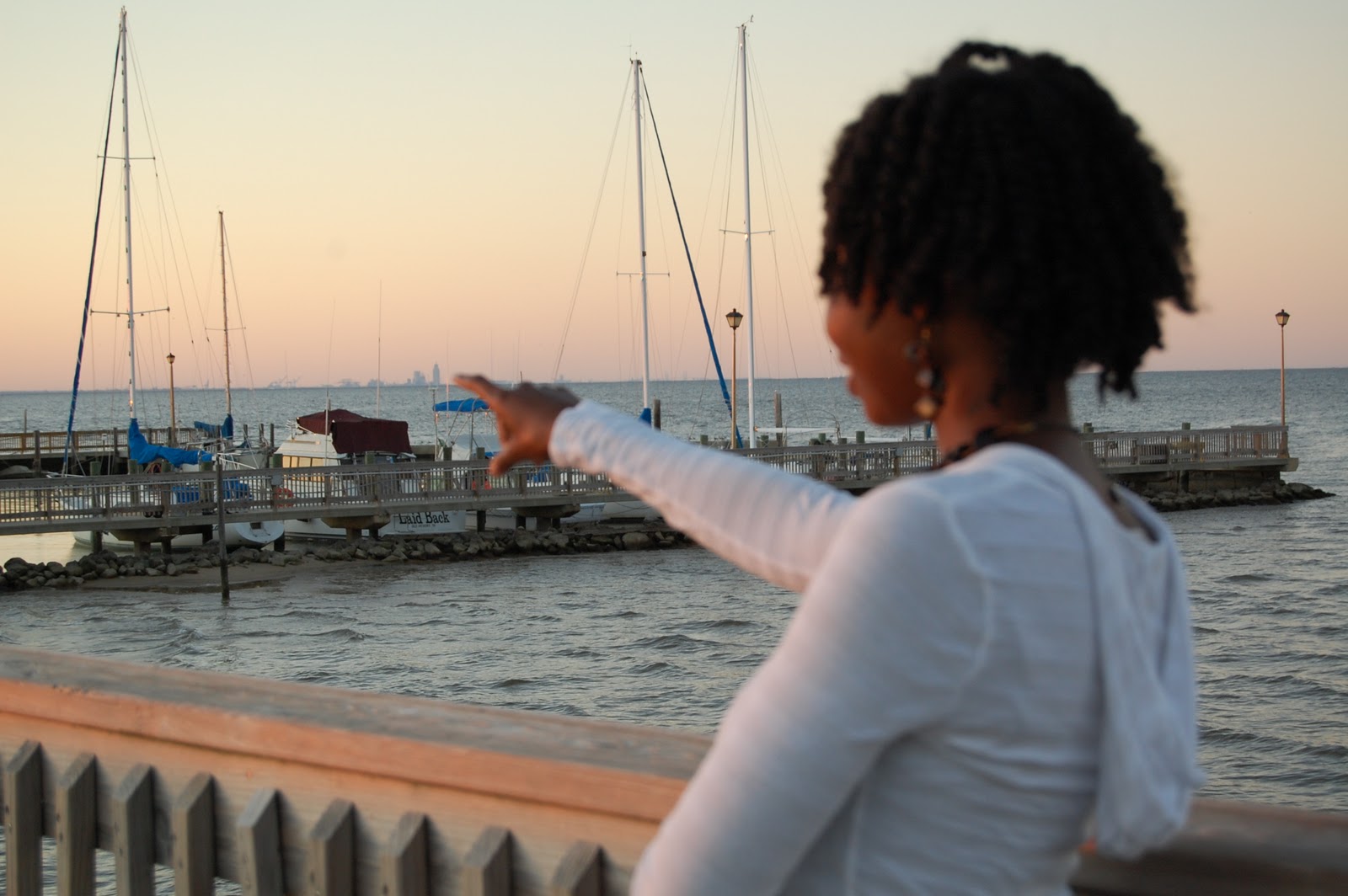 You can see Mobile from the pier in Fairhope
Everyone was in a pretty good mood after our short stop in Mobile so we took a different route back to Gulf Shores. We came up the US-98 alternate but headed back on Route 98 proper through Daphne and Fairhope. We were two for two in good ideas for the day.
I officially want a home in
Fairhope
. Residents have taken great lengths to maintain the small town. Its center is filled with character, each of the historic buildings preserved or renovated nicely. There are plenty of small cafes, shops, and restaurants that promote pedestrian traffic. And the flowers! Every street corner has a lovely little flower bed and hanging baskets of seasonal varieties. Such little touches are what made me fall in love with that place. 
Fairhope is an active community. Nearly every public building advertised an upcoming event including an Oktoberfest and a youth art show at the community center. People milled through the streets wearing light jackets and smiles; if I didn't feel so giddy myself I would have been scared that we'd entered some sort of Amityville Horror scene. But I DID feel giddy and I couldn't wait to return the next day for their Oktoberfest celebration.