As a camper, I like gadgets that are multifunctional and portable. As a tree-hugger, I like inventions that minimize our negative footprint. As a woman, I like to shop and see some of the latest trends. Hence my list of Eco-Friendly Camping Equipment Winners and Losers for September.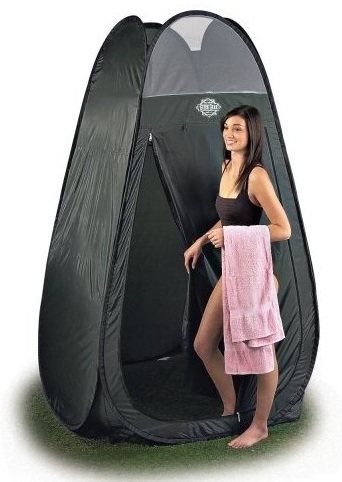 WINNER Popup Solar Shelter You know that you're doing some posh camping when you have a portable shower and changing station. With a size of 4′ x 4′ x 6'6″, the tent provides ample space for adults. It was created with privacy in mind, so the materials are opaque yet there is plenty of ventilation along the top for air and light. Enjoy the added convenience of a 5-gallon PVC Solar Shower. It's no spa but it's better than a bucket of water or the potentially questionable bathrooms at your camp site.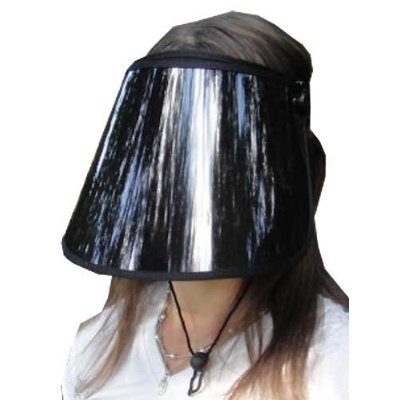 LOSER Solar Face Shield  Okay, so I appreciate the concept. Smearing chemicals all over your skin at set intervals of time in an effort to protect yourself from the sun is a health hazardous double-edged sword. Without it, your cells are at the mercy of the sun's rays. With it, your still stuffing your pores with chemicals at best and absorbing carcinogens at worse. But this face mask is hideous. Who is going to walk around in that? Maybe as part of a Halloween costume but it just doesn't seem cool.
WINNER Black Hills Solar Charger Backpack Having a power charger is like a vital necessity for today's campers and hikers. Charge your GPS, batteries, smartphone, and other devices with this Black Hills backback. It holds 25 litres of your stuff and can deliver an output of 6V. The battery gives your about 3.7V. You can also change the internal battery using an AC adapter or USB cable, increasing this pack's awesomeness.
WINNER Solar Powered Baseball Cap At first, this was going to be a loser. I thought to myself, it's like a headlamp that just looks less nerdy than a headlamp. But doesn't that make it great? I feel like an idiot with that silly trap tied to my skull and that appendage-like lamp protruding from my forehead. A baseball cap just looks cooler. Besides, it blocks your eyes from the sun during the day and provides you with light during the night.