Unfortunately, I have to recant my glowing review of Bone Garden. I Googled their number and then called to ask about reservations for four. The woman hung up on me.
I went to the website and read that they don't accept reservations, only call ahead for parties of 8 or more. This info isn't available on their Google listing, which is what I used. Even still, the hostess hung up on me like I was supposed to know. She could've just told me the policy instead of being an ass. 
That little even conjured up every other rude thing that a server has done during our past visits to Bone Garden. There were quite a few, actually, including a server who insisted that I ordered a beef taco when I didn't. I understand English and Spanish. I wouldn't have ordered a meat that I don't eat. the list continues…
 I guess that's the drawback to edgy restaurants. Some staff mistake their coolness *rolling eyes* as an excuse to be rude to their patrons. Oddly, patrons keep them in business. Asi es…
My husband and I threw a house party for Dia de los Muertos last year. We weren't prepared for it this year (didn't even think about it until Halloween) so we opted to head out for the night.
Bone Garden, a locally owned Mexican restaurant in Atlanta, has parties each year. We love the place so it was our first pick. It gets packed early so my husband had the good mind to schedule our double date for 5pm.
We started off with chips a guacamole (always a good call) and a round of drinks. My husband took advantage of the special, a mini jarrito that is filled with samples of tequila throughout the night. It's a good way to try new tequilas without committing to an entire shot of something that might rip the lining from your throat. The rest of us had cocktails.
Sad news: my absolute favorite drink, Pancho Villa, was taken off the menu, disowned and discarded! That's because few people understand the glory of tequila's smokey cousin, Mezcal. Think of it this way: tequila is a party girl in a miniskirt that talks too much. She's fun for a while but, ha'mercy, you'll need a break. Mezcal is that chick's sexier older sister. She's got a hint of mystery, an air of refinement. You'll want to party with her all night and well into the next day. It's that good.
But since most folks like cheap dates my favorite Mezcal cocktail was taken off of the menu. They replaced it with a margarita that has mezcal in it but it's just not the same. I thought that was the start of a bad night. Fortunately, I was wrong.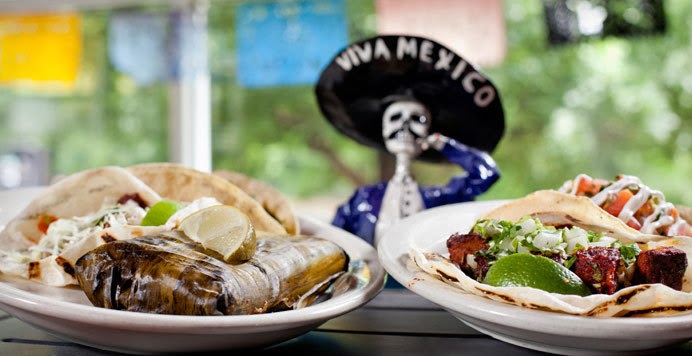 The food was stellar as always. It's an a la carte menu, giving guests the opportunity to sample and savor a variety of options without ending with a heafty tab. Between the four of us we had: a pollo barbacoa quesadilla, carne adobo taco, barbacoa de chivo (goat) taco, lemon shrimp empanadas,chicken machucada empanada, spicy chicarron sope, almojo de ajo sope, a burrito (don't remember which)…probably some other stuff…ending with mexican hot chocolate and churros, and rice pudding. There was not a single complaint at the table. All of the food was spectacular.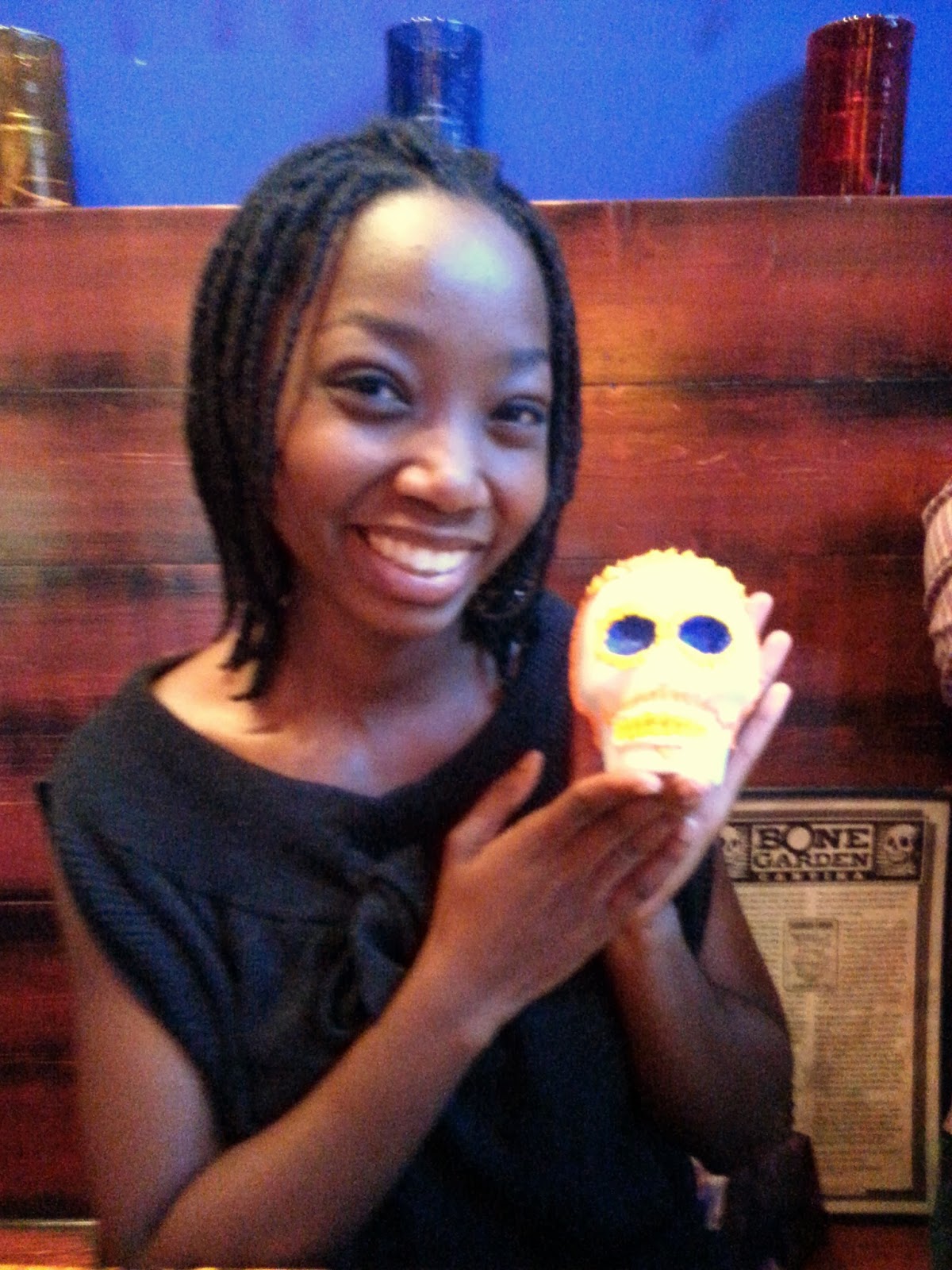 The atmosphere alone is worth the trip. On a daily basis, there is Day of the Dead artwork everywhere. And I think it's a requirement that the wait staff have at least five visible tattoos. Just seeing them walk around can be pretty entertaining if you're into body art. In honor of the celebration, they amped up the Dia de los Muertos decorations and the servers painted their faces. It was creep-tastic! About midway through the night, three ladies in sexy red costumes danced on top of the bar. It was mild enough for general audiences but it still added to the party atmosphere.
Oh, and we got a sugar skull that we named Paco! He's currently on our mantel. I don't have the heart to eat him…though my husband took a bite out of the back of his head. Poor little guy.
Next time you're searching for Dia de los Muertos plans–or just fresh Mexican food in Atlanta–keep Bone Garden in mind.
Or not, if you're determined to get good service. Geesh I hate when good restaurants don't live up to their reputations!