Thinking about splurging on a Manduka Pro yoga mat for yourself or a loved one? There are a few things that you should know!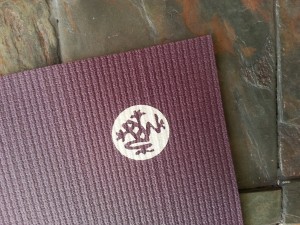 I've had my Manduka mat for 10 months now. I take classes at a studio three times a week, including one hot class, and I practice at home (almost) every day. Since I feel like I've given my mat a reasonable trial, I'm comfortable sharing this review with you. Hopefully it helps during your yoga mat shopping.
Environmental Impact
One of the first things that I wanted in a yoga mat was sustainability. It just doesn't make sense to have a toxic yoga mat that will stuff up a landfill for millennia. While there are mats that are perhaps more sustainable than Manduka, I selected the PROLite because it offers environmentally responsible construction in addition to other features that I wanted.
The ProLite mats are made of PVC, which is a bummer. With that said, the mats are offer:
zero-waste, toxic emissions-free manufacturing
lifetime guarantee and durability which reduces consumption
Oeko-tex certification, fit for human contact
There was a Maduka mat recycling program when I purchased mine but it has since ceased to exist. I guess there weren't enough people who were actually recycling their mats since 1.)the mats last a really long time 2.)maybe the users didn't want to bother with shipping. In any case, the mats can be recycled through independent programs once it reaches the end of it's lifespan in about 50 years 🙂
There are greener mats on the market but Manduka ProLite is a reasonably green choice.
Durability
This is one durable mat! I've had it for about a year and it still looks brand new. No scuff marks. No fading. No discoloration. It's still as supple and beautiful as when I first unwrapped it. I also know another student who has had her mat for nearly seven years and hers still looks great. She teaches, so she gets a lot of use out of it, too.
My cat dug his claws into one side of it, so there are tiny pin-prick puncture marks. The mat isn't invincible but it's pretty darn good!
I've read that Manduka makes the Cadillac of yoga mats and that is no lie! It's so comfortable that I could sleep on it, to be honest. It's cushioned enough that I can rock n' roll on my spine or do lots of poses with weight in my knees and I don't feel a thing. The best part, though, is that it is supportive cushioning. The material is dense, so while it has enough give to cushion your joints it's firm enough that you can do balancing poses without feeling unstable. I always feel grounded and supported on my Manduka PROLite.
In the picture, I have the pen point retracted (don't want to draw on my mat). You can see a slight dimple where I am pressing into the mat. It gives. You can also see that there isn't a drastic concave around the pen. It's supportive. If you want a super squishy or foam mat, this isn't the one for you.
Weight
No lie, the Manduka ProLite mat is a beast at a "whopping" 5lbs. That's really not heavy for me since I drive to class. I only carry it from the car to the door. On the few times that I've taken the mat out to the park, I wasn't breaking my back under the weight or anything so for me it's no big deal. But I imagine it could be a noticeable weight difference for those who commute by foot, especially if you're already carrying another bag for work or the gym.
Break-in time
This is an issue that every Manduka owner has griped about at least once. When you first purchase the mat, there is a thin film on it that feels a bit slippery. It takes about three months of frequent use for this film to wear off.
You can speed up the break-in time. You know those sponges with the textured back? Use one of those during the first few months when you're cleaning your mat. The mat is tough, so the textured side won't damage the mat but it will help remove the film. Secondly, sit the mat in the sun to dry! That was the most beneficial treatment for me. Not sure how it works but the sun really helps to remove the slick residue and leave you with a slip-free, grippier mat.
The initial slip-factor is annoying. I don't think it should be a deterrent. Three months (or fewer with the methods mentioned above) isn't long to break in a mat that will last for decades. Other mats that are grippier don't last nearly as long.
Maintenance
Maduka PROLite mats smell "new" at first. Leave the mat unrolled to air it out. Outside is ideal. Mine stopped smelling "new" in less than a week.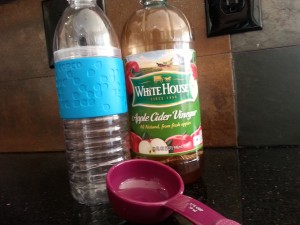 Other than that, maintenance is a breeze. Just wipe down the mat with a damp sponge. You can use the official mat spray or a 50/50 mixture of water and apple cider vinegar. I do the later because I'm frugal. Mix small batches or save time by pouring the mixture into a spray bottle and tucking it into your bag. The vinegar smell fades instantly, leaving you with a fresh clean mat.
Manduka mats should not be put in the washing machine. It's not needed. The mats are made in a closed-cell design so they don't suck up sweat and odors like other mats.
Summary
Overall, I enjoy my Manduka ProLite yoga mat and I recommend it to other yogis who are searching for a mat that is long lasting, supportive, and environmentally responsible. The break-in period is a pain in the butt but I think it's well worth it!