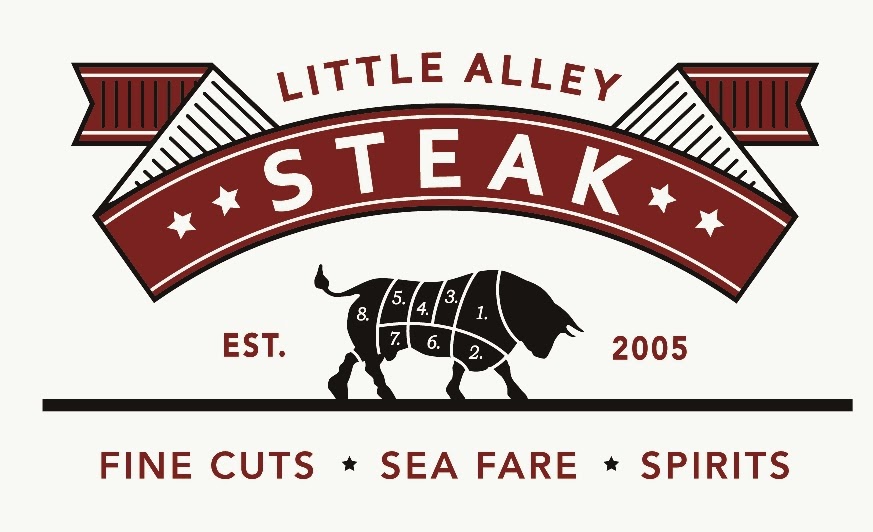 I've been so focused on gardening lately that I haven't done a travel or restaurant post. We've tried a few new places recently but nothing left an impression quite like Little Alley Steak in historic Roswell, GA. It's a character-changing experience.
Little Alley Steak is located on Canton Street, one of the few precious areas outside of Atlanta that offers pedestrian-friendly access to dozens of locally owned restaurants and shops. This is the perfect setting for Little Alley Steak, a small restaurant tucked amid several others, including sister restaurant Salt Factory.
I enjoyed the interior which is an arrangement of rustic brick, dark woods, and dim light bulbs that seemed to float in midair. Upon a closer look, you'll see that they're suspended from large butcher hooks, which is its own kind of cool.
There is little about bricks, wood, and sharp metal objects that spells romance but it's definitely a worthy date night location because of the service. Our waiter, who mentioned being new, was great. The manager stopped by our table and genuinely seemed interested in how things were going. We even had a chef pay us a visit; he noticed that my husband had just finished his beer so he retrieved another for him. There was none of that, "Well it isn't my job…" attitude. Everyone was kind, helpful, informative, and yet somehow they seemed to stay out of the way. Perfect combination for a date night.
Food
But you want to know about the food, right? What temptress seduced me back to the land of meat?
For starters, we ordered the Ahi Tuna Tartar. It was scrumptious, like, melt in your mouth tuna. The fun, frou-frou-modern accompaniments made the presentation better, though I would've been fine with traditional wasabi instead of foam. The only surprise is that you're supposed to eat it with a fork rather than toss it on top of some sort of cracker. But the tuna was so fresh and delicious that I can see why it was the star of its own show.
And dinner? This gal, who thrives on a largely vegetable-based diet, was tempted–nay coerced by my own senses–into ordering a steak! I saw a few of them pass by our table on the way to other guests. They looked spectacular, presented in cast iron pans and then served with such finesse. I wanted a steak.
I ordered the smallest one there, an 8 oz Center Cut Filet and added on a side of Triple Cream Mac and Cheese Mascarpone with black truffle oil. My husband ordered the Ahi Tuna "fire grilled" with garlic spinach, fingerling potatoes, and yuzu-herb beurre blanc. No, we didn't know what that was, either, but I Googled it and beurre blanc is French for a butter and wine sauce. In English, it all translates to:
Bliss.
Every bite of every item that we ordered was delicious. I was looking for something to complain about since I'm always leery of restaurant reviews that seem too perfect but I don't have a single complaint. The steak was exactly what I wanted when I said, "medium." Tender, juicy, flavorful excellence. I've never had macaroni and cheese that was so creamy and delicious. The crunchy breadcrumbs (I think) on top just set it off.
I sampled my husband's dish and relished in that, too. The rare tuna was seasoned well enough to let the fish shine through without it just being a slab of sashimi. I can't go wrong with spinach but I appreciated that it was just wilted, kissed with salt and garlic, and not too oily. The fingerling potatoes could have been an entree in themselves.
As for the wine list, I've got no complaints there, either. They served Silver Oak, which I adore, though I didn't order it because it just wasn't that kind of night. Instead I enjoyed the Peter Freimuth Riesling. There is an interesting assortment of whiskeys for anyone who's into that. My husband found their beer list a bit lacking. He didn't suffer, though. He ordered and enjoyed a Chimay.
We were too stuffed for dessert but we will make room next time! And there will definitely be a next time.
Last but not least comes the pricing. It's old town Roswell. Little Alley Steaks imports its cuts from Meats by Linz in Chicago. It's pricier than the sort of place that I'd usually go on a random date night but I felt the experience, overall, was well worth it. My husband liked it so much that he even brought several executives there when they came to town. Cheers!