Most people think that once they've been on "the strips" of Gatlinburg and Pigeon Forge, they've seen all that those locations have to offer. Smokey Mountains National Park is a vast place that may seem daunting to those who aren't accustomed to hiking and camping. But neither is true! You aren't stuck with campy shops and a million Old Tyme photo joints. You don't have to be a super athletic hiker to get out there and enjoy more about the region, either. Just step off the beaten path.
My friends, husband and I returned to the Gatlinburg and Pigeon Forge area. We have all been at least once before so we were open to doing something different. We decided to stay at an ultra cute (more like massive) cabin with a splendid view of Wears Valley. It took about 20 minutes to get "to tow" on winding, steep roads. It was definitely an adventure for the summer… and not at all advisable on icy winter days unless your vehicle is properly equipped and you've got oodles of experience driving in those conditions.
But the view!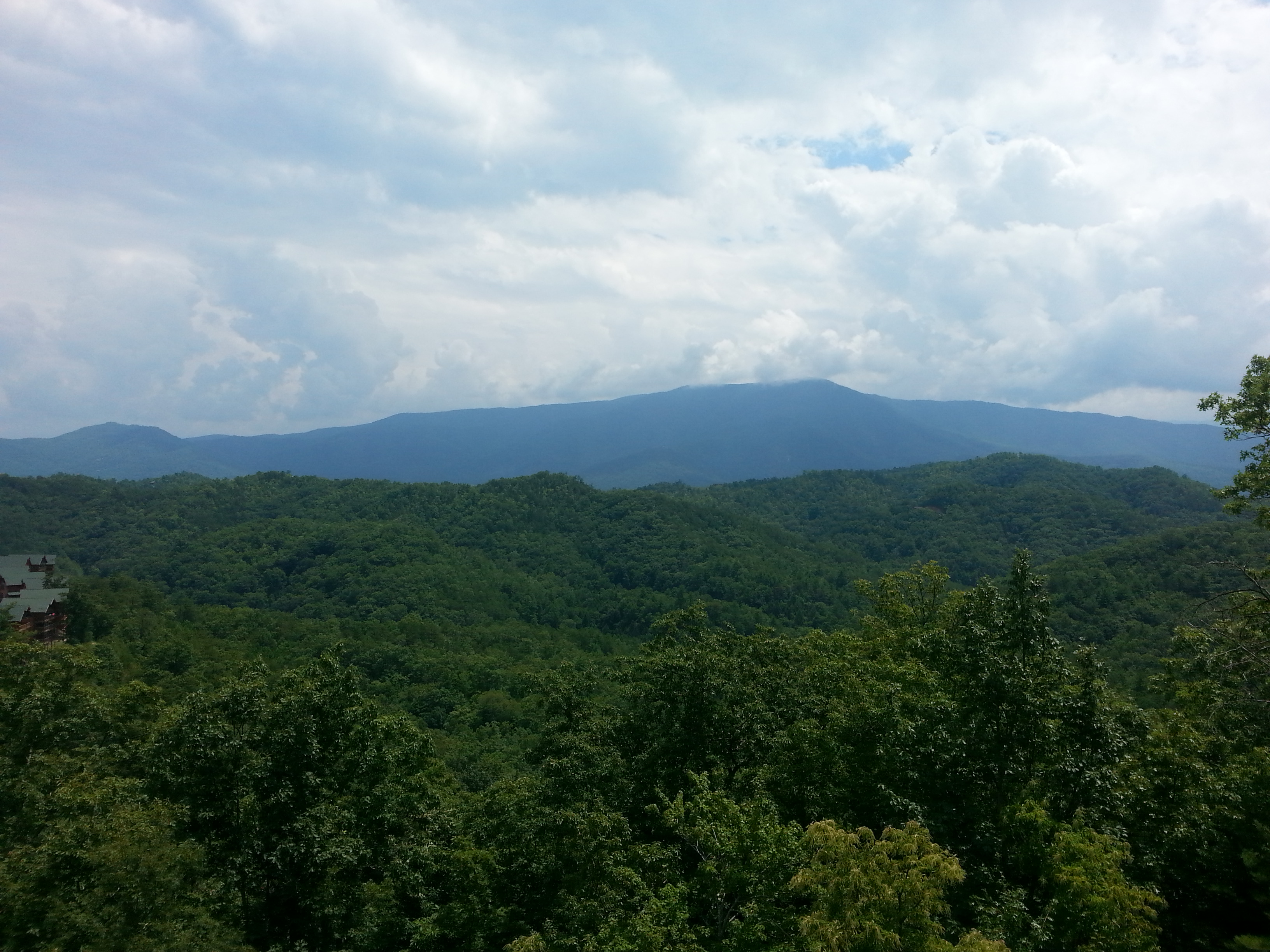 Each level of the cabin has a balcony with similar views. I enjoyed my mornings out there on several occasions and even took my yoga practice outdoors. It wasn't my normal flow, altered by my healing wrist and thumb but it was definitely worthwhile.
To fill our days, we decided to do short outdoor excursions called geocaching. It's basically and international treasure hunt. Locals hide caches in (generally) discreet areas of parks and neighborhoods. Then other locals and even visitors can log onto different apps to get the coordinates of the caches and see if you can find them. If you do, you sign you name, leave a trinket of some sort, and then replace the cache for the next person.
Now, hiking is my thing. I love being in the woods and enjoying all that nature has to offer (minus yellow jackets). Geocaching is a hobby that my husband and friends enjoy. I don't mind it but I have to be honest, trying to find random little things in the woods can be irritating (microcache!) and dangerous. Most caches are hidden out of view, which is precisely where snakes, spiders, and other critters like to rest during the day. Then there are the caches hidden up steep, slippery river beds. Then there are the caches hidden in public areas that can get your arrested for loitering or looking like some sort of creepster.
With all of that said, it is quite fun once you find them! The weird little treasures that people leave behind are usually pretty interesting.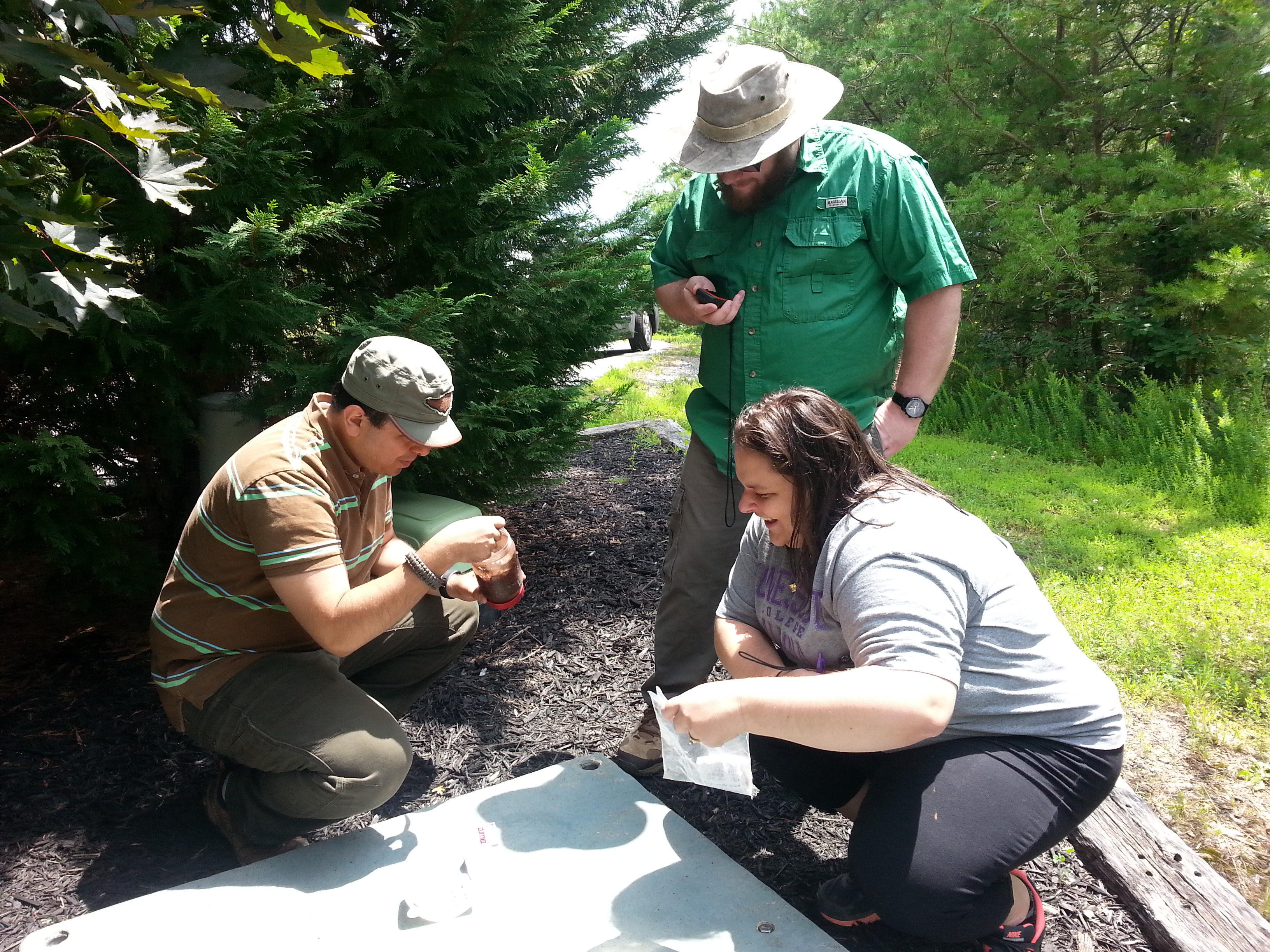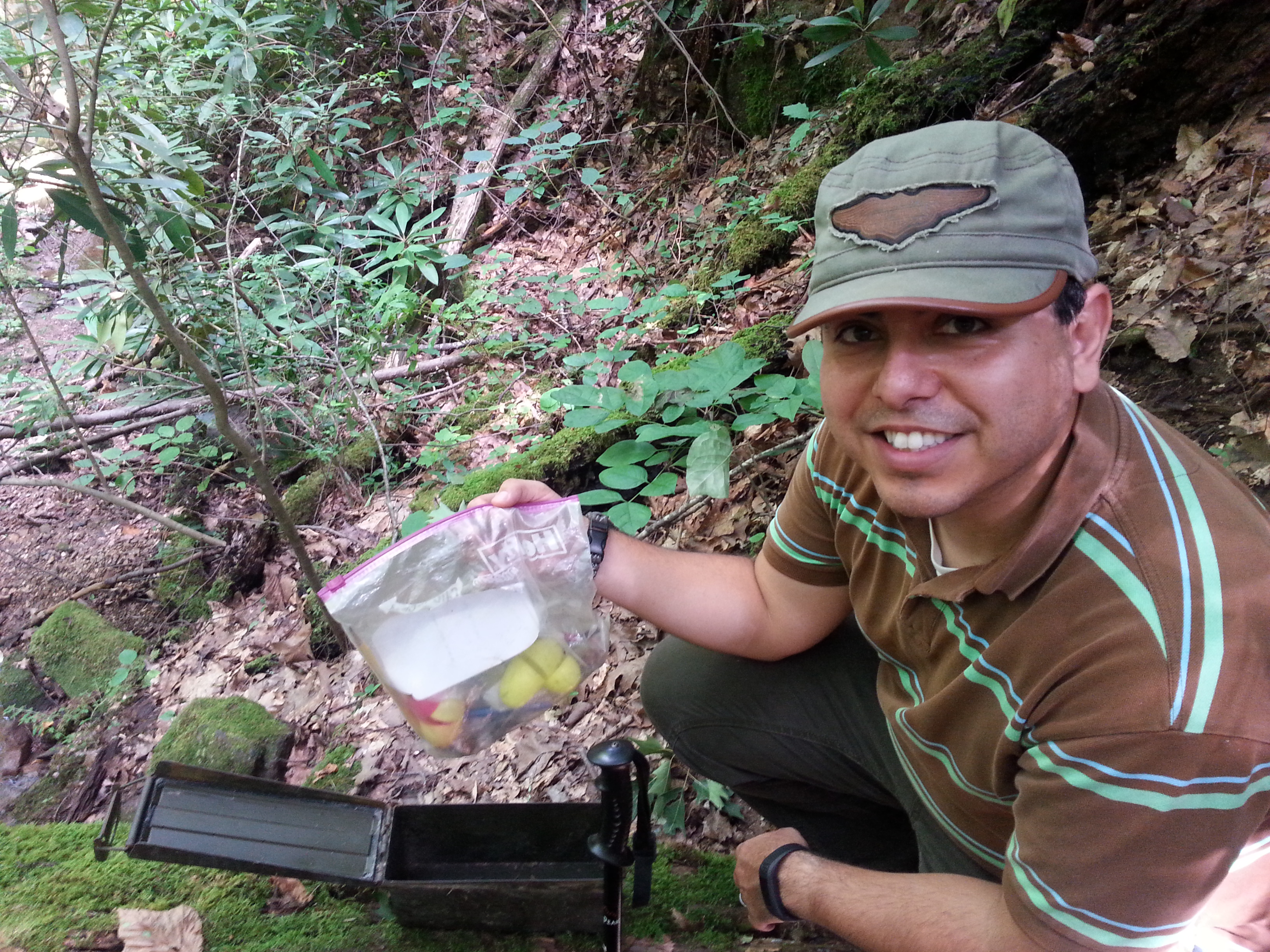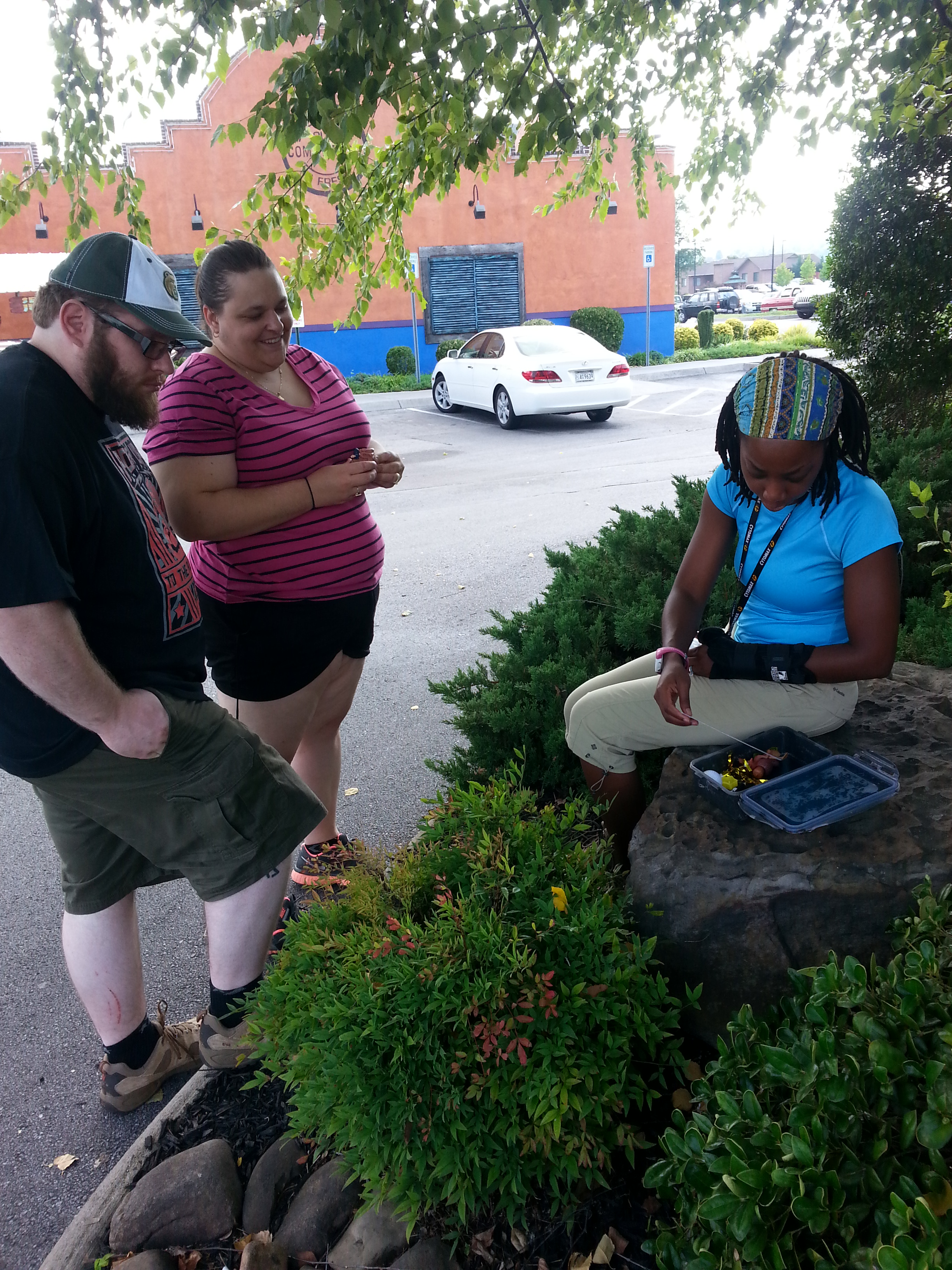 But wait! My vacation gets even blerd-ier! In addition to clambering through the woods in search of buried treasure, I also went to MagiQuest. This spot is on the tourist trap strip of Pigeon Forge so it may not seem too out-of-the-way for families with kids but I don't imagine most adults would stop by. But they should. It's an excellent value for groups because it includes wizardry, scavenger hunts, mirror mazes, mini-golf and a laser maze. The scavenger hunt sends you through three rooms in search of objects; when you find them, cast your wand at them and it magically (electronically) logs which objects you find. Find them all and you get a rune. More runes = power up your wizardry level.
It's harmless fun and anyone with a soul can find something to enjoy about it, which is why it can even be fun for adults looking for something different to do. I also liked the mirror maze. The mini-golf and laser maze were both fine, too, but I think the mirror maze and scavenger hunt were my favorite. May I suggest trying all of this while buzzed? We were just on a sugar high from having ice cream for lunch but anyplace with flashing lights and magic wands is more fun when the edge it taken off.
Don't I look wizardly?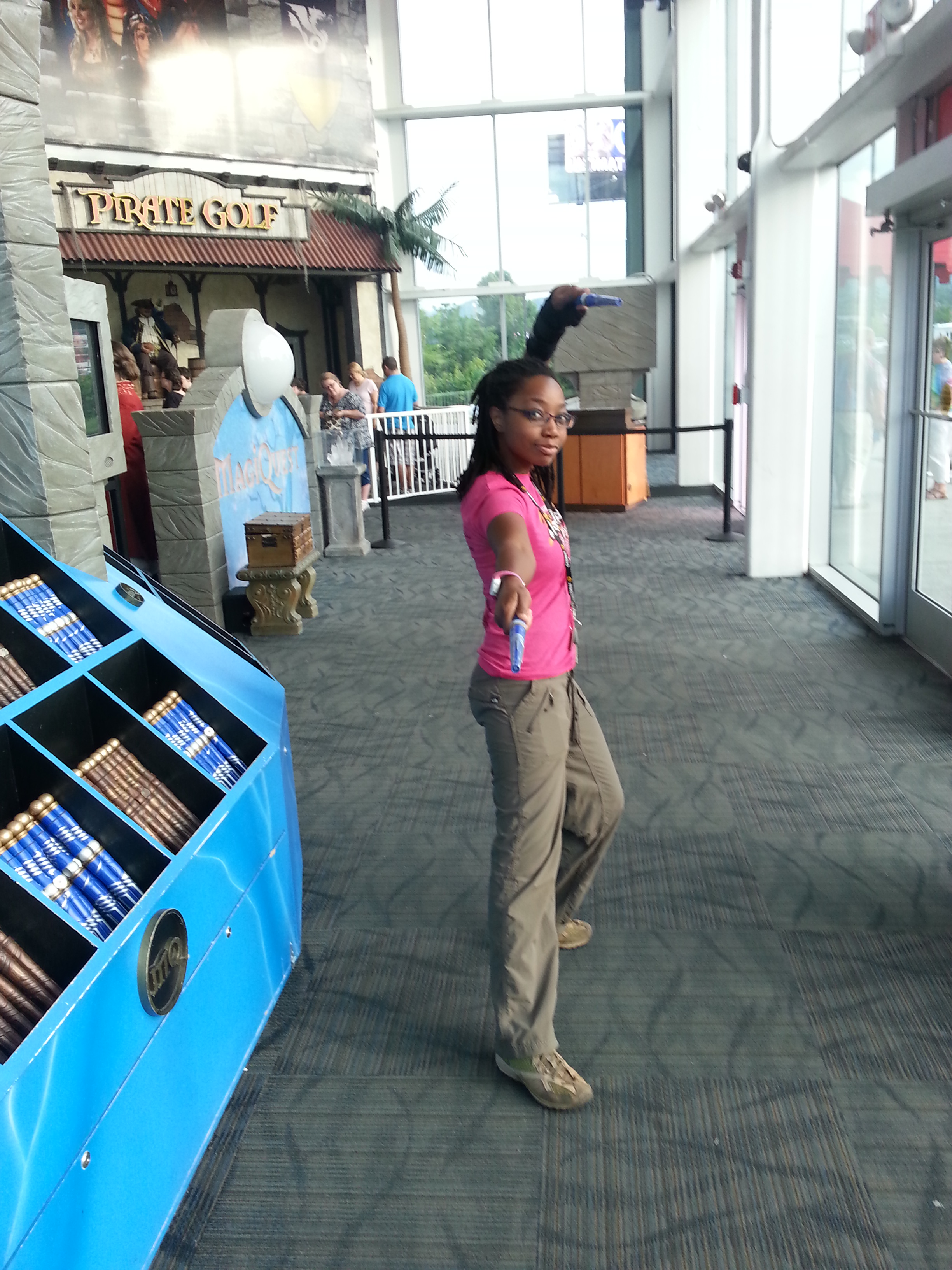 Tickets are $20 per person which may seem steep at first but you'll easily spend a few hours there. And when you consider that Smoky Mountain Alpine Center's Alpine Coaster costs $15 for eight minutes, it's worth it in comparison.
But back to getting off the the beaten path. If you're looking for delicious food, a good beer list, and a versatile jukebox you must make your way to The Roaming Gnome. It's a hole in a wall–literally tucked between bigger stores in a strip mall–with quirky decor. There's not much Irish about this pub but I didn't mind at all. The food was crazy good; we had calamari, Irish Boxies, beer cheese dip, and the gnomad which is ridiculously large. All delicious. Very, very tasty.
So next time when you're in Pigeon Forge and Gatlinburg, you know where to go!