This summer, there are several excellent opportunities to enjoy yoga classes for FREE!
As much as I love  Made Free Yoga studio in Alpharetta, GA, I know that most studios aren't as affordable. Unlimited classes there are only $50 per month whereas most yoga studios around Atlanta are three times that much. That leaves many yoga students searching for free alternatives. A home practice is a great idea (and it's free) but if you want the social aspects of a practice then check out these three free yoga classes in Atlanta.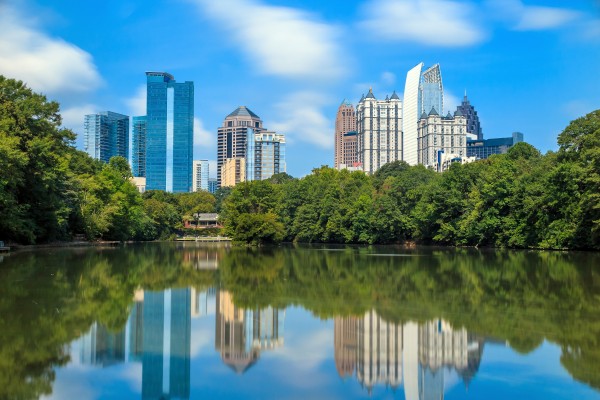 Every Tuesday, King of Pops hosts a yoga class at Old Fourth Ward Skatepark at 7pm. It's an awesome experience! On nice days, there are at least a hundred people, which sounds crowded but it's really not. The park is expansive so there is plenty of room for everyone. Most people who come out are super nice and down to earth–very limited (if any) judgement based on your apparel, mat brand, or skill level. My sister, who is a beginner, felt very comfortable being there. Everyone at the park is doing something active so they're too busy to judge you and your appearance while you get your fit on. It feels like a nice little community! If you show up, hop on social media using #kopyoga. You might just make a few friends 🙂
(NOTE: the King of Pops Yoga Facebook event page may read "event expired" every once in a while. Check the date. It's likely the event page from the previous class. If in doubt, check @KingofPops page Facebook page or give them a call.)
Athleta stores in Atlanta often host free yoga classes. There are two that I've gone to and enjoyed. Wellness Wednesdays at Atlantic Station take place in the little park in front of the store. Since it's in the middle of a shopping plaza, you might experience the sensation of working out in a fish bowl but I still enjoyed it. The practice space is TINY, so you'll want to arrive early to be sure to have a space.
The other is AvalOm, which takes place each Thursday at 6pm in Avalon (just north of Atlanta). Yoga, barre, and similar classes are held at athletic stores within the complex. Athleta, Lululemon, and a few other fitness apparel stores trade up hosting opportunities so be sure to check out the website and see where the class will be hosted. This, too, can have a fishbowl effect but the best part is that the teachers switch out a lot so you get to experience a lot of yoga styles for free!
If you know of other free classes around Atlanta, add them to the list by commenting below! Special thanks to Kim Elliott for sharing a lot of these with me 🙂