Anybody interested in turquoise waters, endless skies, and daring surfers? Yeah? Then follow me to Manly Beach near Sydney, Australia.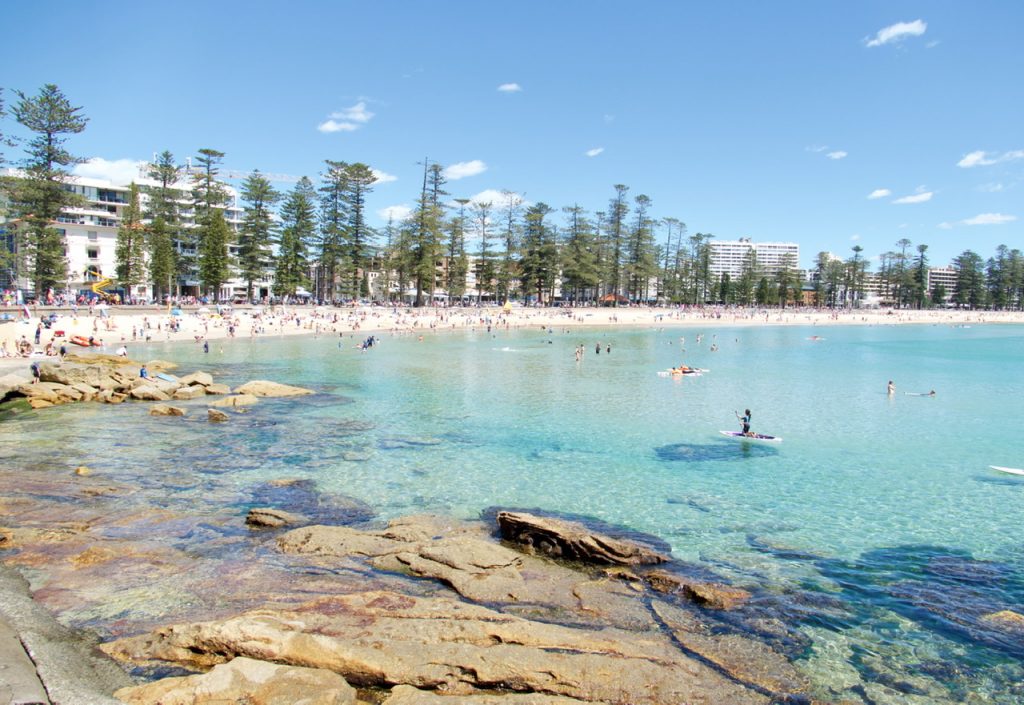 Like neighborhoods, each beach in Sydney has its own vibe. Manly Beach is a relaxed location that is favorited by Australian locals and British ex pats. Unlike Bondi Beach– which is renowned for its glamour and Instagram-ability– a trip to Manly Beach offers a chill vibe with down-to-earth people. Everyone feels welcomed to participate in the beach's many athletic offerings or just chill in the sand and watch.
Check out the best way to get to Manly and the best things to do on Manly Beach.
Taking Manly Beach Ferry
If you want to save money, skip the Sydney Harbor cruises and just take the ferry from Circular Quay to Manly. Not only is the ferry the fastest way to get to Manly Beach, it's also a very scenic ride! I paid for a Harbor Cruise (which was lovely) but probably would've been just as happy only doing the ferry ride.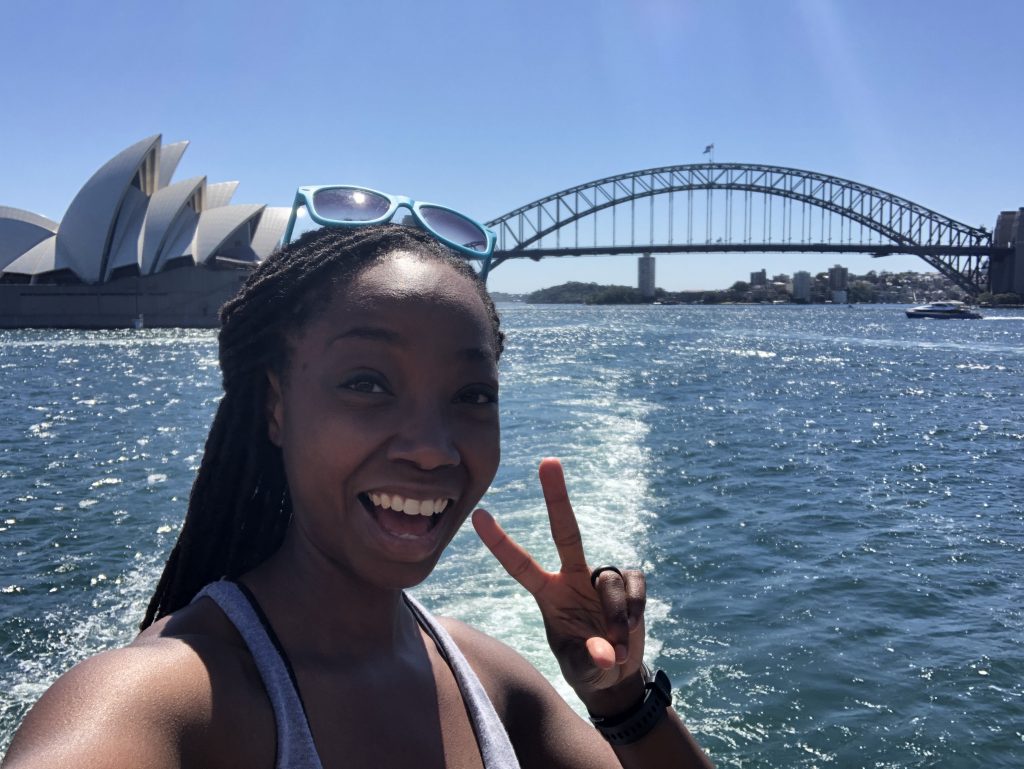 The ferry departs from Circular Quay every 30 minutes. Check the timetable for the ferry from Sydney to Manly. Prices are about $8 for bulk tickets and $10 for single tickets.
The ferry offers two indoor seating levels, one outdoor seating level (best for taking pictures), a café and bar. The latter two are loved by local commuters and tourists alike. Be sure to grab a quick bite or drink before hitting the beach.
Fit Fun! Fitness Travel at Manly Beach
After 22 hours on planes to get from Atlanta to Sydney, I needed to MOOOOVE. I hit up Manly Beach on the second day and I'm so glad that I did. Staying active while you explore Manly Beach is super easy.
Surfing A top-notch surf school, strong winds and cool waters make Manly Beach one of the best places to surf near Sydney. The local surf school offers classes for a range of experience levels, including beginners like me! All equipment is provided.
The strong winds encourage great waves, but they can also make dangerous conditions. Beginners are encouraged to practice at the southern end of the beach, which has a natural buffer from the southern winds. When heavy gusts come from the north, it's serious. Beginners are advised to avoid the beach. Check out the Many Beach surf report before hitting the waves.
As luck would have it, I arrived for my lesson when the northern winds pelted the beach. No surfing for me. But even with the strong, chilly winds Manly Beach was a beauty to explore on foot.
Seaside Tracks  There are several tracks (or trails) that help you fall in love with Manly on foot.
Want a quick walk? There is a paved trail that runs from Manly Beach to Shelly Beach. It's about 30-45 minutes round-trip, out and back. I found the terrain to be quite accessible. It's also great for people watching. Even on a windy spring day, there were tons of people out walking, jogging, and skateboarding .There are several stops along the track where you can enjoy the view of the beach. I was pleasantly surprised by the art installations.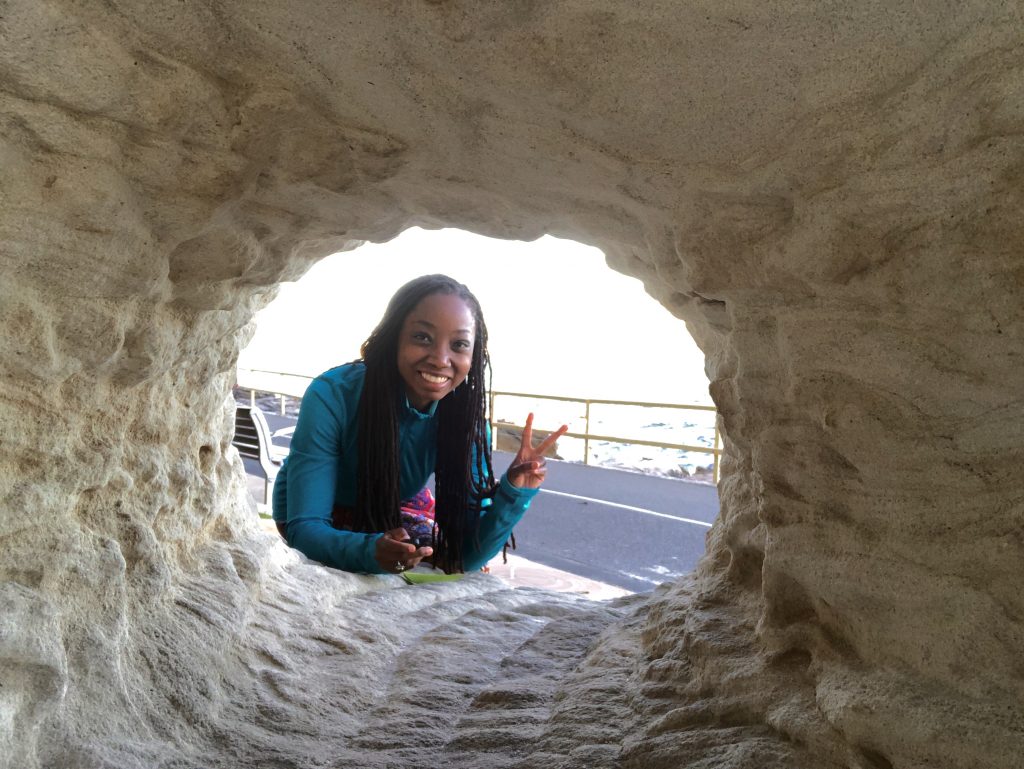 If you're looking for a longer trek, check out the Manly to Spit Scenic Track. It's 10km / 6 miles through beaches, bush land, and towns. I took pictures, stopped for snacks and journaling while enjoying the scenery.  It took me over 4 hours. But if you're going for endurance training it can be accomplished faster as a run, jog, or powerwalk.
Be sure to wear trail runners (lightweight shoes with grippy treads). Unlike the Manly to Shelly walk, Manly to Spit is not paved throughout. In some parts, you're trudging up sand or uneven sandstone pavers. It's on the easy side of moderate, in my opinion. Bring water, a camera, and a hat (with the ultra touristy chin strap so it doesn't blow away on you).
Check out other popular Walks in Manly Beach. 
Group Sports Even on a "bad weather" day, I was delighted to see so many people playing sports on the beach. All of your favorite beach sports—volleyball, frisbee, swimming—are all welcomed. The beach is relatively narrow, which means that during the peak seasons space will be very limited. You may find more space here than Bondi, though, which is larger but also more popular.
There were few vessels on the water when I visited but there were plenty of shops in Manly that offered kayak, paddleboard and surfboard rentals. Find just about any ocean toy you'd like!
There Are More Beaches in Manly than Manly Beach 
There are three beaches on Manly that are easily accessible when you get off the ferry. When you first arrive at the wharf, you will see a small beach slightly to the west. It's Manly Cove Beach, an ideal place to watch the sunset. (More on that later.)
Follow Wentworth St. or The Corso through the town center and market. After a little more than 1k / .6 miles you will effortlessly arrive near the south end of Manly Beach. Whether you go right or left is up to you. The views are beautiful in either direction.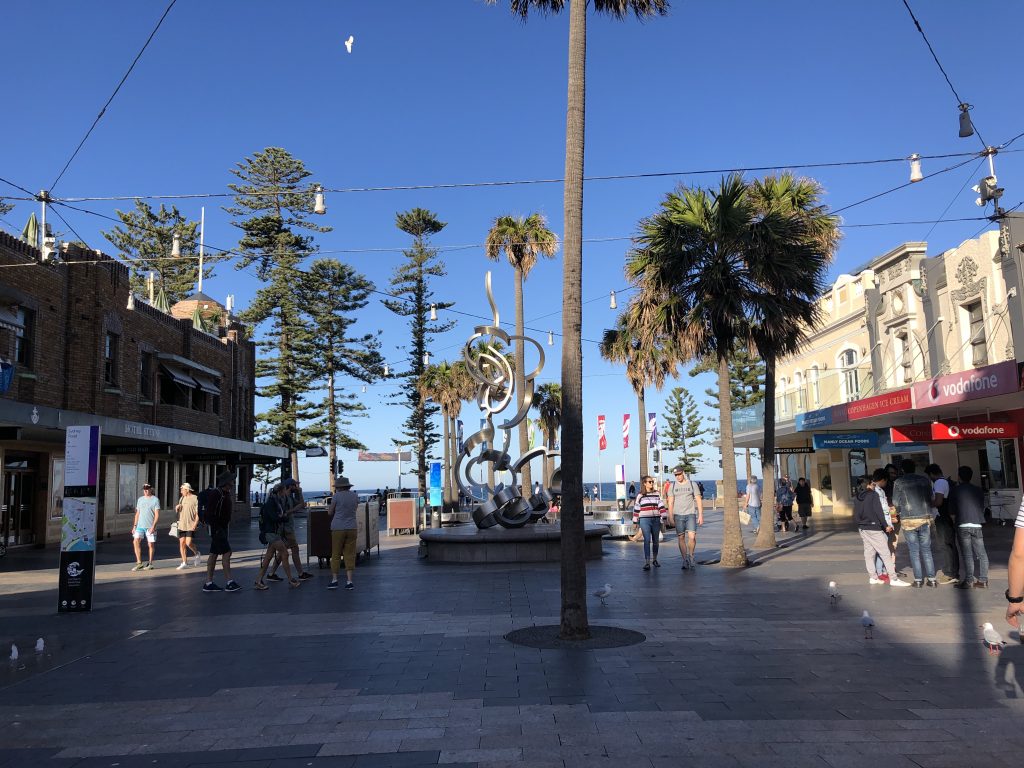 If you go north (left), you can look across towards the Shelly Head Lookout and the hilly neighborhood above Manly Stepping Rocks. Houses and roads are nestled into the nooks and crannies of the cliffs. This may be the best spot to go in the morning, since you can watch the sunrise over the cliffs (in spring).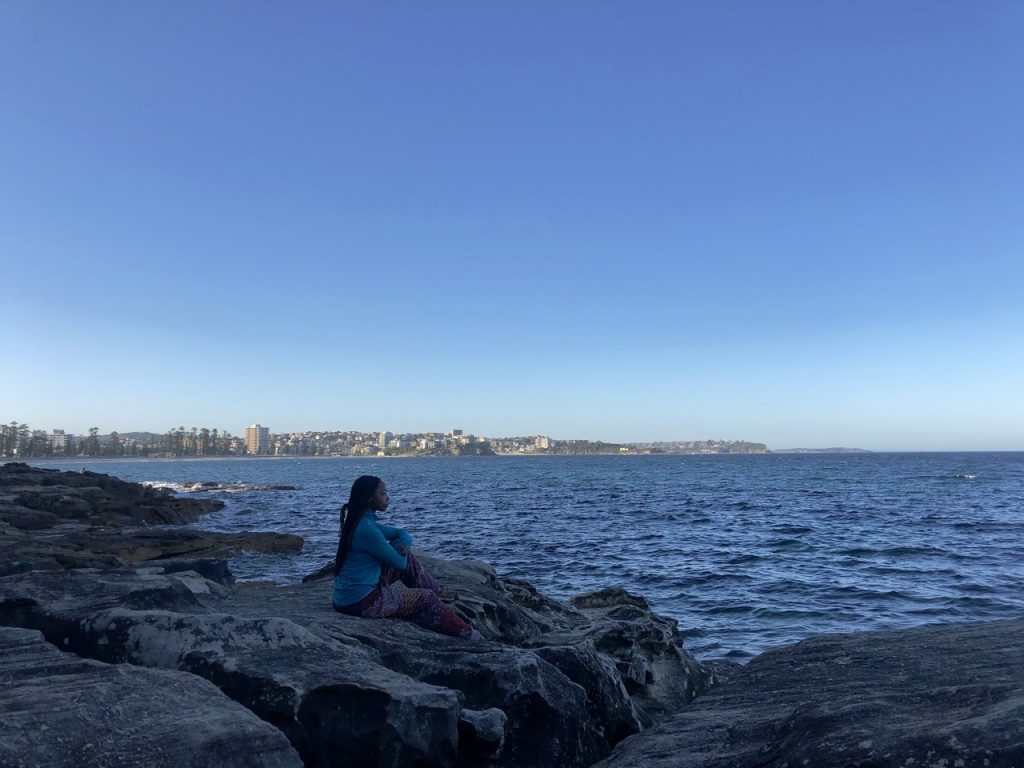 Turn to the south and you will get the best views of Queenscliff, Freshwater, and Curl Curl neighborhoods in the distance. Metropolitan views over the ocean are a stunning contrast. These views are lovely at any time of day.
 Don't Miss a Magical Sunset at Manly Cove Beach
Sunrise on Manly Beach is probably lovely. But since I wasn't trying to wake up early (like most vacationers), sunset would have to suffice! And it did.
Sunset at Manly Beach is lovely. The area moves more slowly and everyone seems to be soaking in the last rays of sunlight at their leisure.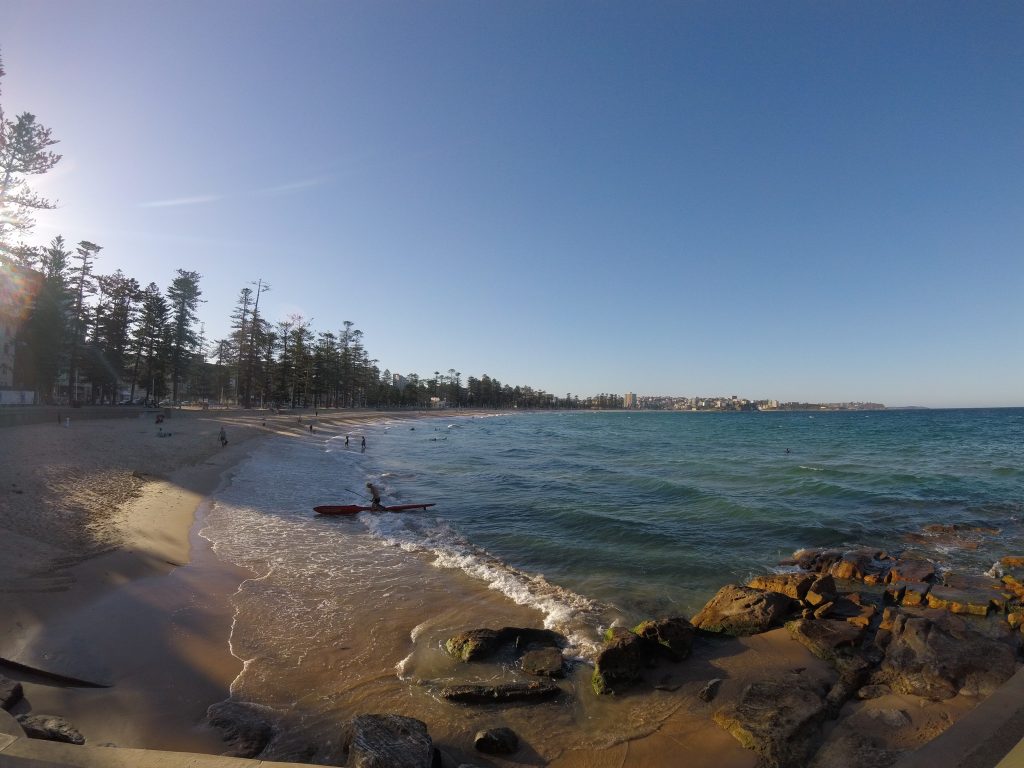 Sunset over at Manly Cove Beach, though, must not be missed. That's the direction where the sunset is most pronounced. If you're only in the area for one sunset, head over to the cove!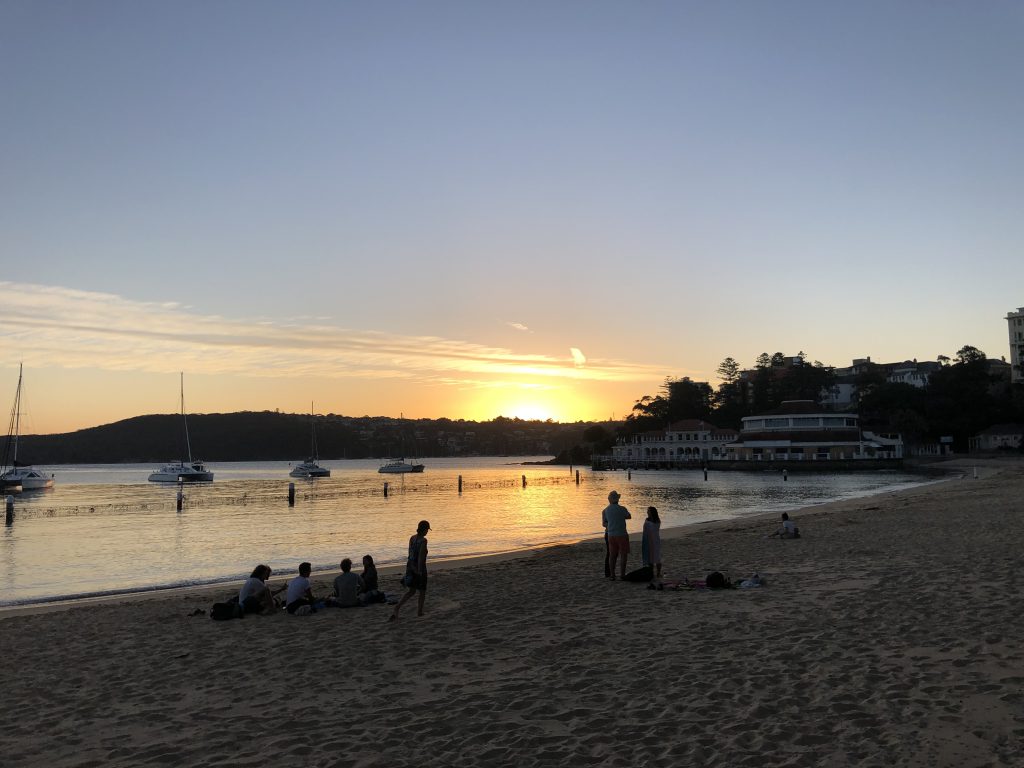 First, confirm your sunset time on your favorite app. This will naturally vary by season.
Next, grab your dinner. I recommended picking up a seafood dinner to-go at Manly Fish Market and Cafe. (Don't forget your condiments and cutlery on the counter opposite the display case before you leave.) Manly Fish Market claims to have the best fish n' chips in Australia because they use hake. This fish is harvested in the cool waters between Australia and New Zealand. I opted for the fish n' chips and a Greek salad. Note: it didn't disappoint!
Once you've got your grub, head over to Manly Cove Beach. Pick a spot up on the wall which separates the beach from the walkway above. If you're lucky, you might get a nearby picnic table. These high vantage points give you a slight advantage over watching the sunset at beach level. From there, you can savor more of the sunset's golden rays before the orb sinks below the hills of Kay-Ye-My Point. Sunset was my favorite part of my time in Manly Beach.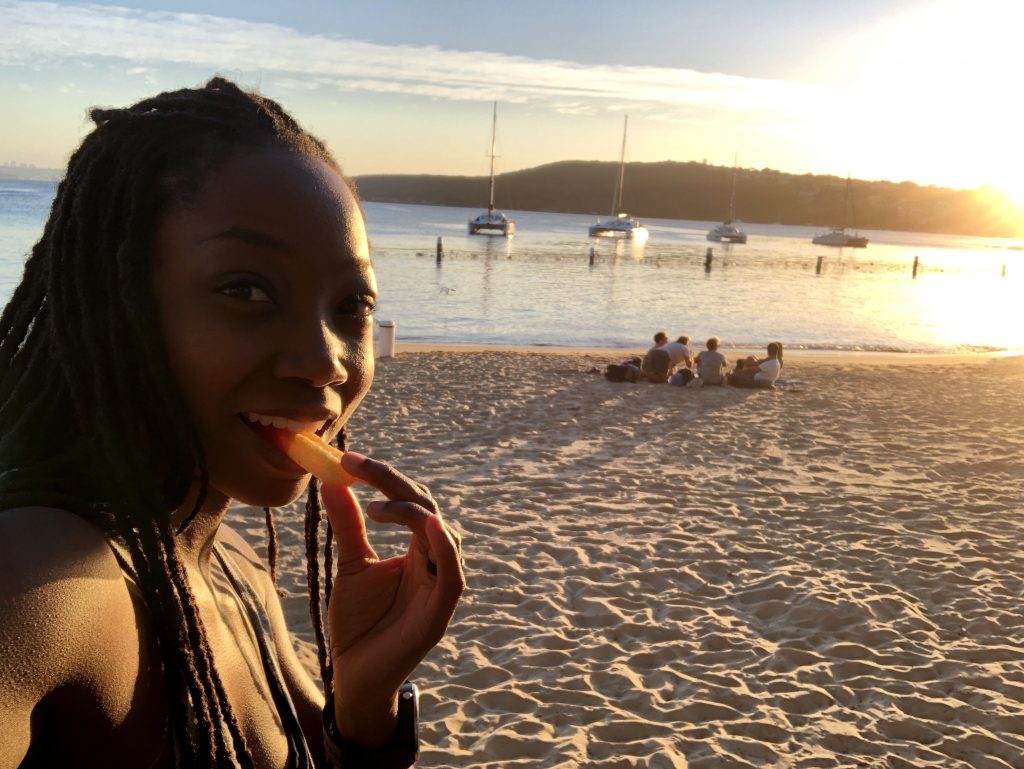 Want a more formal setting? There are a few restaurants near the wharf that offer lovely views of the sunset. The most popular is the Manly Sailing Club. It used to be exclusive but has started to welcome non-members in recent years. A bit less popular but with easy access to your ferry home is The Bavarian Manly Warf. There is outdoor seating right along the water. Enjoy your meal and the sunset and then you're only a few feet away from your ferry ride back to Sydney.
Whether you're on the cove beach or a restaurant, I wouldn't linger. After sunset, hop right back on the ferry and head back to Sydney. The Sydney Opera House and Sydney Harbor Bridge are easily visible during the ferry ride. Capture stunning sunsets with Australian monuments in the background for the cheap price of ferry fare!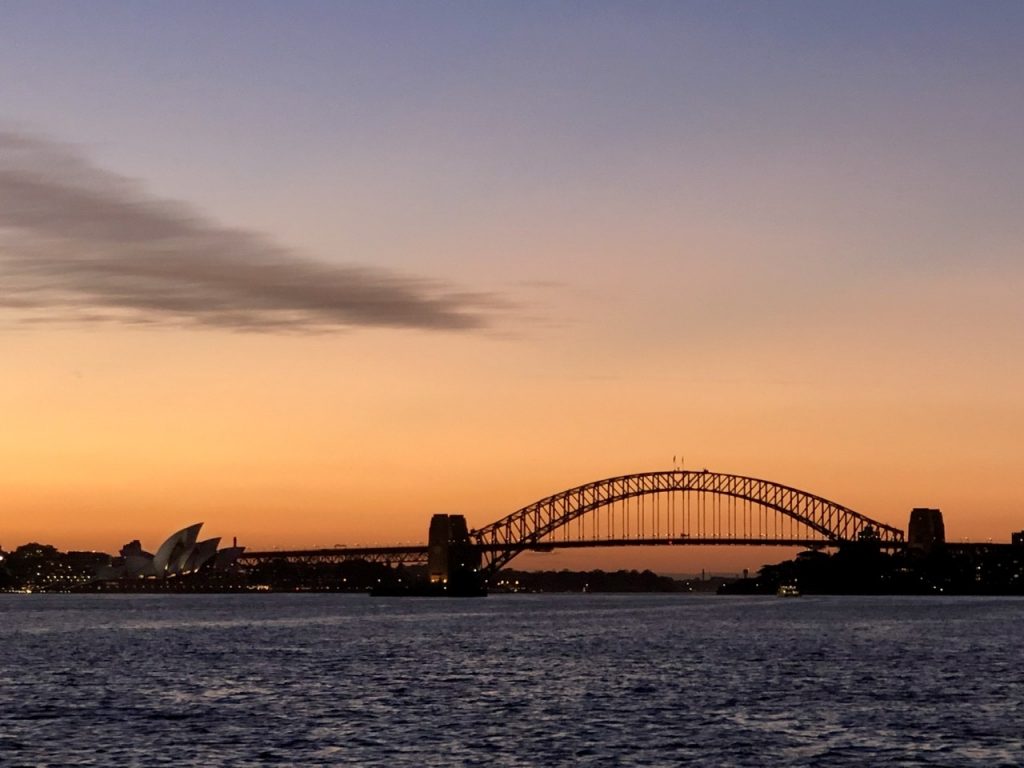 Wellness Check
Manly Beach can be an athletic adventure for your muscles or a relaxing escape to sooth your nervous system. With several miles of trails, beach sports and beautiful views everywhere that you turn, you can't go wrong!
I offer a gentle reminder to enjoy where you are as well as what you're doing.