With the fall underway, it is time for me to stock up on outdoor gear for cooler weather. After leaving much of my stuff in Paraguay post-Peace Corps service (the stuff was already old and I needed to make room for souvenirs) I experienced the first cool week of fall in Atlanta just to remember that I didn't have a jacket, a rain coat, or gloves so I started shopping around online.
I'm an obsessive comparison shopper. There are so many options in the world, I like to make sure that I'm getting the best quality for my budget. If you are like me, hopefully this post will save you a few hours.
I wanted a jacket is: 1.) water resistant and wind resistant yet breathable 2.) hooded 3.) light enough to tuck into my pack when hiking yet thick enough to keep me warm since I get cold easily 4.) figure flattering on my petite frame. Oh, and if possible, I'd like to keep it under $100.
Columbia 3-in-1 Bugaboo
Columbia 3-in-1 Bugaboo Interchange Parka
I originally stopped into Bass Pro shop for hiking socks. I generally don't shop there because I'm not an avid hunter or fisher and I always assumed that's what the store was all about. Not true. While you can find everything you need for the aforementioned sports there's also a decent department for outerwear and active wear. In addition to finding the socks (Redhead, $9) I also came across a Columbia 3-in-1 Bugaboo Interchange Parka for $160 and thought that I was in love. It's waterproof with taped seams, wind resistant, has the Columbia Omni-heat technology, and has the added bonus of being worn as a fleece jacket, a raincoat shell, or zipping them together for maximum protection in diverse conditions. The Bugaboo felt warm and comfortable but a bit bulky because I was trying on a medium (I'm 5'3'', 110lbs). I felt that the medium provided more than enough space for layers and the sleeves passed my knuckles so I opted for a small. No smalls on the rack. The kind sales rep put in an order for me with a nearby store.
I read reviews when I got home and learned that just about everyone loved the jacket. The downsides are that, for some, the back of the jacket isn't low enough to protect your bum while sitting. There were rave reviews for Columbia's durability and resistance to the elements. A female hiker was just getting a new jacket after ten years, and that was only because the old jacket didn't fit anymore.
The North Face Cedar Falls Triclimate Jacket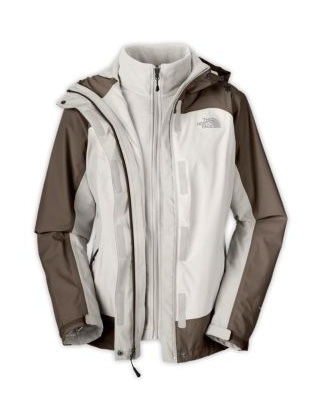 The North Face Cedar Falls Triclimate
As I waited for Bass Pro Shop to call and let me know that my order had arrived, I stopped into the Sports Authority to get a wicking shirt with my boyfriend. Waiting for him to shift through the inventory, I began to browse as well. What do I find other than another super cute interchange jacket, this time The North Face Cedar Falls Triclimate Jacket in Moonlight Ivory. It first caught my attention because it's just so lovely. It's got a sophisticated cut to it, which is more versatile for my purposes. I could wear it around town and not look like I just crawled out of the state park. When I am at the state park, Cedar Falls has all the fixings that I liked for outdoor play. It's waterproof with taped seams, windproof, breathable yet warm (I still don't know how they do that) and has eight pockets, four of which have zipper closures. The waist has a drawstring to block out cold, and the hood is fully adjustable as well. I pulled the Cedar Park off the rack and tried it on. The angels were singing more loudly this time.
The only disadvantage is that the hood doesn't detach; not much of a problem for me because the hood lays flat. The medium fits beautifully, allowing room for layers underneath but it's still flattering on my figure. With a price tag of $99 thanked the shopping gods and made the purchase. I promptly canceled my order for the Bugaboo with Bass Pro.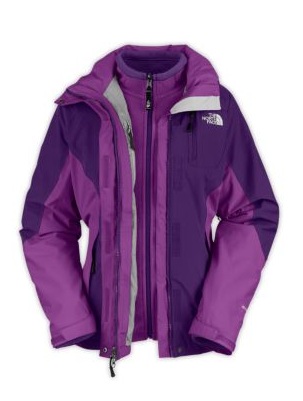 The North Face Atlas Triclimate
I came across more durable and versatile jackets in the higher price ranges. The North Face Atlas Triclimate has a two-toned fleece that is thicker than Cedar Fall's. The Atlas comes with pit zips and a detachable hood. As much as I'd love to have those features, I couldn't find it online under $230. The Passport Triclimate has all of the aforementioned features with the addition of an insulated lining. It's also about $230. But let's face it. I live in Atlanta, Georgia. I don't ski and I don't plan on hiking the Himalayas anytime soon so Cedar Falls provides sufficient for warmth and protection for what I need. (One reviewer from Michigan exclaimed, "It was 3 degrees this morning but I was toasty in my Atlas Triclimate!" It's never that cold here, which just proved that I didn't need the $130 upgrade.)
Lessons Learned:
1.)Try stores outside of your comfort zone. You never know what you might find!
2.) Be lame and create a list of what you need in a jacket. Make sure that your jacket meets the requirements and see any additional features as bonuses. If the bonuses are going to break your budget, just say no. That money can be used for other items that you need later.
I'll update you on the jacket's performance as soon I we get some inclement weather!