I've recently become #DedicatedToJoy. If there is something I really want to do or achieve, I make it a priority. Excuses take a back seat. One of the first things on my list was to take an international trip this year. Check! Here are my tips for preparing. Hope it helps!
Packing for a trip to Costa Rica? What you bring along will depend on (at least) three factors:
Are you traveling during the dry season (December – April) or rainy season (May- November)? Rainy season is marked with ample late afternoon showers but the country is at is most beautiful then!
In what region will you spend most of your time? The Pacific Coast, Interior/ Mountain Region, and Carribbean Coast all have their own unique environmental and cultural considerations.
What do you plan to do while you're there? Even free spirits can benefit from packing with a loose plan in mind.
This blog post will feature tips on how to pack for an outdoor adventure-based trip to Guanacaste, Costa Rica in late April.
Packing, The Good Stuff!
1. GARMIN INREACH EXPLORER PLUS – Get maps, weather updates, and more via satellite. Many national parks do not have well-developed trails or well-marked trails and it can be challenging to navigate without a guide. Guides can get expensive if you book through an agent.
I was surprised to find that the device does *not* navigate roads in the sense that Google Maps navigates. Which is silly because there are cheaper GPS devices with this feature.
Best Feature– InReach Explorer Plus is especially awesome if you're traveling alone. You can send automatic GPS tracking info to selected recipients at regular intervals to let them know you're okay. You can also send text messages. Both are satellite-based so you don't need to have cell phone reception or network access. Lastly, it comes with an SOS button in case you're in a serious jam. These little messages greatly improved my husband's peace of mind while I was away alone.
2. GOPRO HERO5 SESSION – My new fave action camera for 4K video and photography! It's waterproof up to 30 ft, rugged for the elements yet lightweight and compact. The Floaty and/or The Handler (both shown in image) are a worthwhile investment if you plan to do water activities.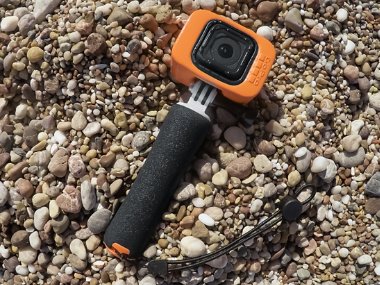 3. SOLAR CHARGER: Get one with multiple USB ports so that you can keep your phone, camera, and GPS charged and ready for adventure.
4. GRIPSTICK – Includes a tripod and monopod as well as adapters for the GoPro and smartphone. The smartphone attachment has a thick rubber loop in addition to the clamp to really hold the phone in place.
5. SEATTLE SPORTS E-MERSE DRYBAG – To protect your phone, consider a dry bag. It locks out water, sand, and debris while giving you full functionality of your touchscreen.
6. IPAD PRO – So much lighter than my MacBook Pro! I wanted to store my photos and videos in a central repository and have a device for editing them. And as a blogger, writing is always on my mind.
The iPad Pro is lightweight and thin, even with the Logitec CREATE backlit keyboard attached. There is no need to take it out at TSA security checkpoints and it's easy to work with on the tiny airplane tray tables. It's small enough to fit in a medium-sized purse so I could work from anywhere without a bulky backpack or messenger bag.
The downsides are that the Photoshop iOS apps aren't as robust as Photoshop desktop version. (LumaFusion is a capable iOS video editor but I'm still learning the ropes.) Secondly, the native Photos app sucks when combining photos from different sources. I recommend Lightroom or another 3rd party app.
7. WATER PURIFICATION- Everyone will tell you it isn't necessary. Generally, they're right. But during the end of the dry season, when most rural costal towns are tapping into the bottom of their wells, parasites are more common. Something compact and light is worth it when needed.
8. FOOTWEAR – I brought hiking shoes, multi-sport sandals, and good ole' flip-flops. If I just had to pick one, I'd bring the multisport sandals with a durable, closed toe and arch support. They're touristy AF but I love my Keen Venice sandals.
9. RAIN JACKET – If you're on the cusp of or directly in the rainy season, this is a must. I brought my REI rain jacket. It has "pit zips," which are essential for ventilation in hot, humid, rainy weather. It also folds up super tiny.
10. SOFT BONNET DRYER – This is an absolute MUST for anyone with dreadlocks. Thoroughly drying your hair each night prevents mold and weird smells. The Lalia Ali soft bonnet dryer is super portable and I loved it.
11. BUG REPELLENT – Sawyer Picaridin bug repellent is deet-free. The lotion absorbs well into the skin rather than leaving greasy, shiny, slippery mess.
12. SPF 50+ SUNBLOCK – My melanin generally does the job but why risk my health? The sun is intense that close to the equator.
13. LOOSE-FITTING CLOTHING – It's hot. Let your skin breathe!
14. ESSENTIALS – passport, ID, toiletries, etc.
Stuff I Could've Left Behind (in retrospect)
SNORKELING FLIPPERS – Having my own mouthpiece makes sense but I could've left the flippers behind. They're bulky and everywhere that offers snorkeling includes gear in the price.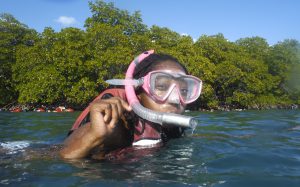 YOGA PANTS – With temps in the 100+ while I was there, it was too damn hot for tight pants, no matter how breathable manufacturers claim they are. Booty shorts and capris all day, baby, especially if your classes aren't air conditioned.
PAJAMAS- 2/3 of the places that I stayed didn't have AC. Nights were 85 degrees or hotter. Everyday everywhere was humid. Save space in your suitcase and just sleep naked.
LOTS OF HIKING SOCKS – I could've survived that whole week with two pairs. Wash one, wear the other as the first dries. Thick hiking socks took up too much space and I never wore them off of the trail. Again, too hot for that.
MAKEUP – Since most of my accommodations didn't have AC and it was hotter than hells flames outside, makeup was a stupid thing to bring. I wasn't there long enough for my body to truly acclimate, so makeup would just melt off of my face. I didn't even bother.
Stuff I Should've Brought
DASHBOARD MOUNT for my phone / GPS – So the roads in Playa Negra are shit. No better word. Potholes, streams, tight turns, aggressive (foreign) drivers, cow crossings– holding a phone for navigation and trying to drive with one hand was a mistake. The Rav 4 that I rented didn't have anywhere to put my phone without it bouncing off a millisecond later.
MORE SHAMPOO – Now that my super thick, loc'ed hair is nearly mid back, my 3 oz travel bottle of shampoo exhausted in 48 hours. I should've brought a full-size bottle and checked it.
FAKE LASHES – Haha yes, I'm adding this. Makeup wasn't an option (see above). But as a person with very fine lashes and dark skin–which just got darker while I was there–I found that my features disappeared entirely in photos. Since I took several pictures for the website and marketing purposes, that little touch of glam may have helped me look a bit…fancier?… and less like a sticky swamp monster.
In Short…
Hopefully this list is helpful for anyone else planning a trip to Guanacaste, Costa Rica. Note that the recommended list for the interior or Carribbean coast may be quite different, and any packing list will be different based on the season.
Remember to be #DedicatedToJoy!