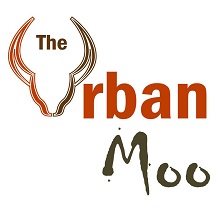 If you're looking for delicious gourmet burgers southeast of The Perimeter, you've got to check out Urban Moo in Conyers, GA.
Since high school, I hoped and prayed that cool stuff would make its way down I-20 east. It seemed like the fun shops and restaurants were allergic to anything past Decatur city limits, which meant that my friends and I would have to leave town just to find something other than chain restaurants and roller skating.
A decade later we got Urban Moo, a fun place for burgers in the Conyers/ Covington area. It has got ITP personality with OTP benefits like a short drive, free parking, and classic southern hospitality. There is ample parking for a restaurant of its size as well as pedestrian access from nearby neighborhoods and shopping centers.
While the interior design is fun (I'm a big fan of chalk boards and fun colors) the food and customer service take the spotlight.
Food
I ordered the turkey burger, topped with avocado, onion, tomato, and lettuce.  After adding a bit of ketchup and mayo, I settled in to enjoy the best–albeit most slippery–burger that I've had in recent memory. The hearty patty was well seasoned but not like it's trying to hide something. It's just flipping' good.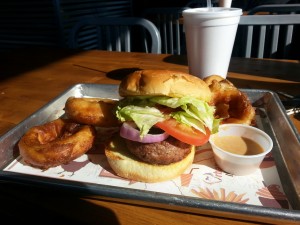 For the side, I selected the onion rings. I'm so glad that I did. They're thick cut, coated with light batter, and then fried extra crispy. There special sauce, which I think is horseradish based–balances well with the saltiness and spices on the union rings. Superb! If you're with a group, I recommend ordering these as an appetizer.
Then I ordered the sweet tea, which should be labeled Super Southern Sweet Tea because it is intense. It's marvelous, don't get me wrong, but it's the sort of tea that is so sweet that it manages to make you thirstier, which is fine because you want to drink more, anyway. If this isn't your sort of tea, just ask for 50/50 sweet and unsweet. That should bring the sweetness down to a more palatable level for the general public.
The meal was deceptively filling. Each turkey patty is short and thick rather than broad and flat so the bugers stand tall rather than sprawling on the plate, which can make them seem small at first. I eat moderate portions and I wasn't able to finish the burger and onion rings.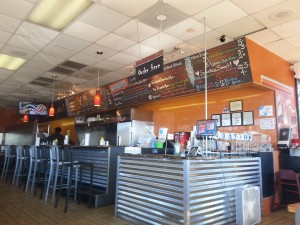 The prices at Urban Moo are comparable to other gourmet burger restaurants. For $12 I got a burger, side, and medium fountain drink. While this is normal or even inexpensive by city standards, I've heard neighbors complain that they feel the prices may be too high for the 'burbs. That scares me to be honest. Sometimes quality food and a little creativity cost more. I'd hate to see the area keep settling for less.
Customer Service
I've got nothing but great things to say about the staff at Urban Moo. My first visit was on a lazy Sunday afternoon.  Everyone was multitasking with a smooth team dynamic. The team members have their own vibes (tatts, dreads, impossibly arched eyebrows) and it's the sort of place where everyone can be themselves and enjoy great service in a welcoming and chill atmosphere.
Check out what they have to offer!