Nottawasaga Lookout Provincial Nature Preserve offers one of the best winter hikes in Ontario because of its stunning views and enchanting caves.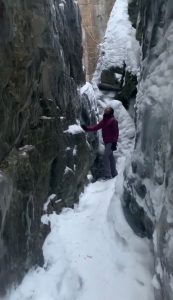 Just a quick drive from Blue Mountain resorts and Collingwood, Nottawasaga trails are an easily accessible part of the Niagara Escarpment.
We did this hike in winter. It was a great way to stay active and fight winter hibernation syndrome. (I just made that up, by the way.) We hope that you enjoy it as much as we did!
Planning the Hike
Trail names here can be confusing. It's not a complicated trail system but a map is handy.
Nottawasaga is the general area. Within this park, there are three trails that overlap. The Bruce Trail runs through the park from the northwest to southeast; it is marked with white blazes.
The largest side trail that stems from Bruce Trail is the Singhampton loop. It is marked with blue blazes. Most of the trail is easy. There is a smaller subsection, a loop called Standing Rock and Caves. It is also marked with blue blazes, which confuses many hikers. It is rated moderate as well and composes most of the steep, rocky areas. The length of the blue-blazed trails combined is 2.2 miles (3.5 km).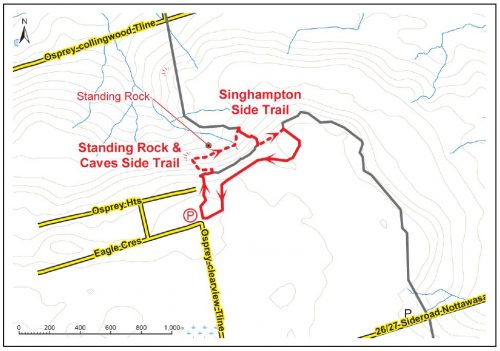 BruceTrail.org offers the most complete breakdown of the trails.
Singhampton
The Singhampton loop takes a leisurely stroll through the woods. It is peaceful and beautiful during the winter when fewer visitors come through. We were ultra lucky. A fresh coat of snow adorned the branches and erased most signs of wildlife. It was quiet and serene.
Along this trail, you will encounter a creek bed (dry when we visited) with steep rocky banks. It's enticing to hop down there and meander through the twists and turns. If there is snow cover, I don't recommend going down unless you're thoroughly familiar with the park. It's impossible to tell where the ground is; this section is part of a larger ravine. Even in winter, it was accentuated with ferns and greenery just below the snow. What looks like solid ground could be a plant hanging on the edge of the ravine! Above the ravine is just as nice. Stay there.
The western-most portion of Singhampton trail is not very challenging. It's a great place for a meditative walk and a nice, gentle ease into the rest of the trails. Those who want a longer hike will enjoy adding this to their itinerary.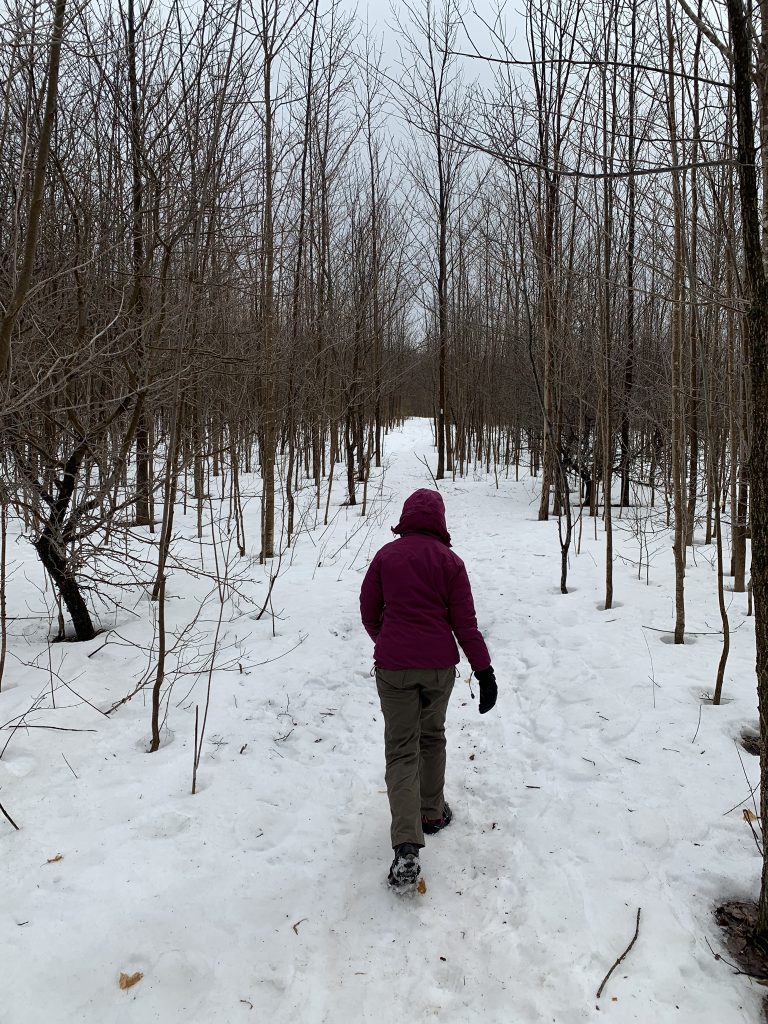 Standing Rock and Caves
The eastern portion of the park includes Standing Rock and Caves trail. This side trail is rated moderate because there are several steep areas and some rock scrabbling to get through the caves. The elevation gain is more than 200 feet. It's well worth the effort!
Standing Rock rises out of nowhere. A few small boulders and then BOOM. It would've been phenomenal to see this massive pillar break off and land on its end. Unfortunately, the height of Standing Rock and the surrounding boulders remains unpublished.
Now let's talk about the caves. If you've never been spelunking or you're claustrophobic, there's nothing to fear here. The park contains talus caves that formed when boulders were dislodged from the bedrock. The trail winds through the crevice system and chasms along the escarpment. As such, there isn't a point where you are ever underground. Most "caves" have plenty of skylight. There are a few dark nooks you could get into…if you wanted to share the space with its natural inhabitants.
(Note: on some browsers, these videos are larger than life. The "Full Screen" option makes viewing more pleasurable.)
The caves are breathtaking. Sheer stone faces rise several stories into the air. They were so flat with edges to crisp they look like they were hewn with lasers. In other areas, boulders rest precariously against one another forming more caves.
In winter, the caves could be very dangerous. Ice forms easily along the surfaces, making it difficult to find your footing. Bring crampons or another form or spikes for your shoes. There isn't much to help with your hands to just be careful where you place them. Be mindful of the icicles. Leave them in peace for others to enjoy.
I think we missed the official outlook point. With all the foliage gone, there were several beautiful outlooks. I'm not sure which was "the one." I don't mind. The views were great all along.
The crunch of the ice and snow underfoot was a welcomed sensory detail that reminded me that I was hiking far from home.
Wellness Check
Overall, this hike was about 3 miles, moderate difficulty. The rock scrabbling is short, fun, and doesn't feel like exercise. Though I stopped a ton to admire the scenery, it's still a nice, quick workout that doesn't feel burdensome to add to your day.
As I've mentioned before, any time in nature improves your mental well being in tremendous ways. It's not always the hardest hikes that offer the most benefit to your body!
Apres Hiking
There are no restrooms at this park. There are no restaurants or gas stations in the immediate vicinity. Your best bets for both are in Collingwood, about 12 miles (20 km) away. Check out Crow Bar for your meal. The cozy restaurant features local, live music and an exciting menu of locally-sourced fare.